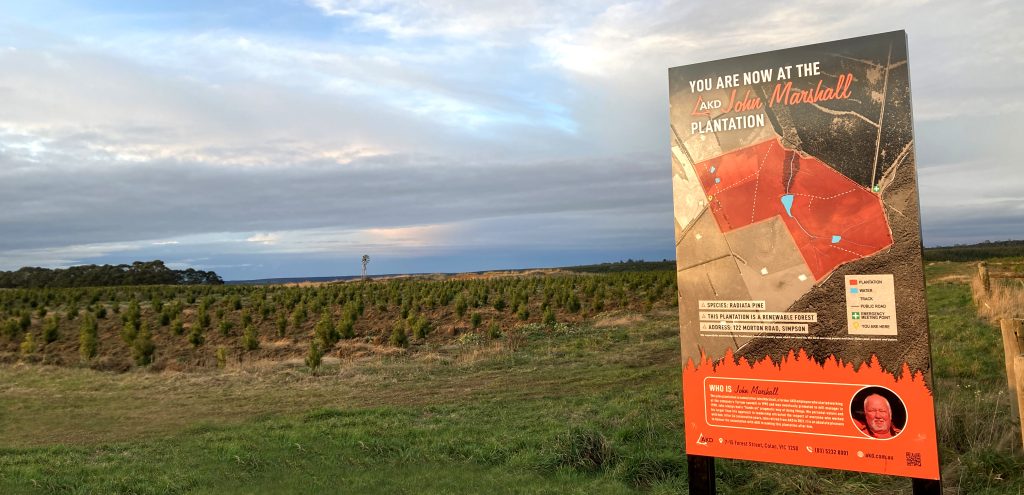 A plantation for a Yarram icon
In January 1994, John Marshall started working in Dandenong for David Westbrook at 'Sunwood Timber'. When David bought 50 acres of land in Yarram, John was asked to set up and 'build' a timber mill on this land, so in 1995, he moved to Yarram with his wife, Sheree, and their two young boys, Aaron and Michael.
The Yarram Sunwood mill was officially opened in 1996 mainly producing paling and employed approximately 20 workers. Unfortunately, they went into liquidation in 1997 but the administrators took control, appointed John as manager and the mill continued to produce and trade.
In 1998 the mill was purchased by NF McDonnell & Sons from Mount Gambier and John continued on as mill manager.
"I first met John in 1998 when our family purchased the Yarram Mill. On my first trip to Yarram, I was more interested in meeting the people than seeing the operation itself because in my view, they were the ones that would make it a success or failure." Ian McDonald, Director of NF McDonnell & Sons.
"On my walk around the site with John, I knew he was someone who shared the same passion to do a good job and make the operation a success. John has always led from the front and never shied away from the many challenges he has faced over the years.
The success of the Yarram Mill, through various owners, and changes is a testament to John and his team. He has proven many times over to be a person you can always rely on and over the years, has become a close friend."
McDonnell's purchased a new HEW SAW which changed the business, during this time the mill continued to grow and prosper, with increased product lines and employees to 50. The treatment plant was a game changer for the mill and allowed a complete product to be ready for the sales market.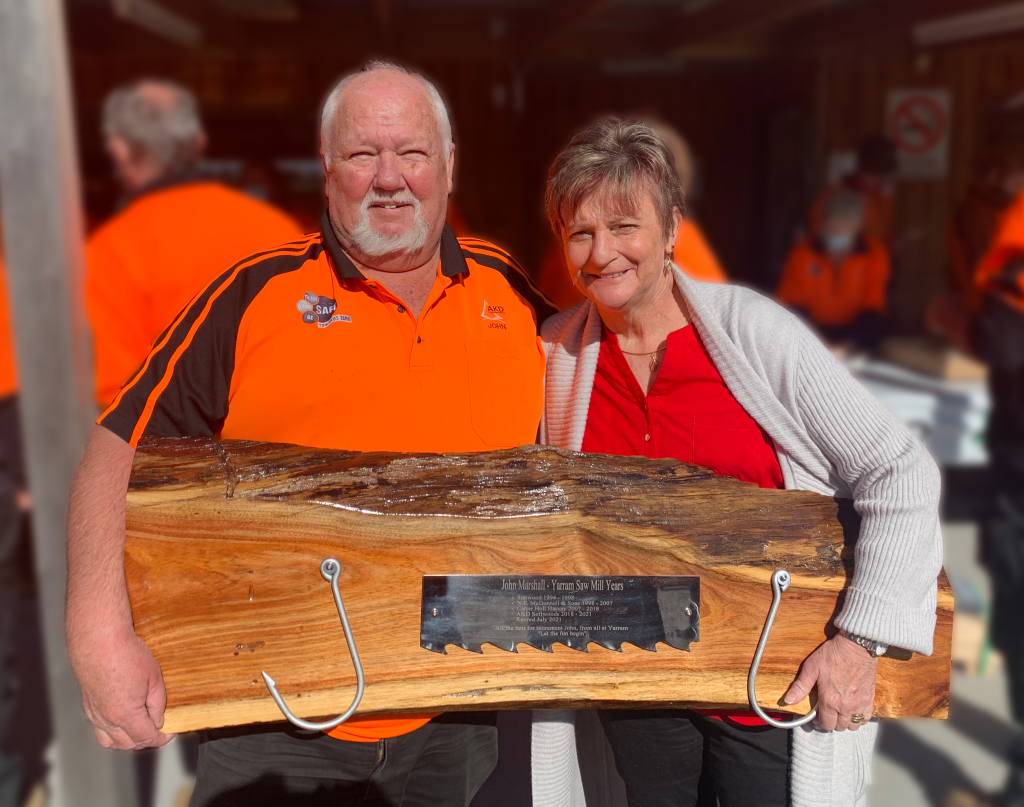 In 2007, Carter Holt Harvey bought the thriving business, with John taking on the role as Facility Manager. CHH introduced the site to the corporate world with a huge focus on safety and many changes were made on site including installation of a Refurbished Debarker, a second shift (afternoon) commencing, a 3rd kiln, an additional weighbridge and log yard extension and no more mud, with a huge amount of "working compound" added!!!
2009's Black Saturday saw many properties lost in the Yarram area with the mill being very lucky to remain standing, as fire went all around, only saved by a freshly ploughed paddock on the north side of the property as well as John and some employees who came to help put out spot fires on the site – If these people were not there, the site would have looked very different.
AKD bought the mill in 2018 and John remained the site manager. The AKD way was 'back to basics' with the focus on sawmilling, it was an exciting fresh start with new owners that gave the employees the feeling of being a "family".
"The first day I visited Yarram and the strong conviction you showed in Yarram's potential (and all that friggen concrete!). AKD purchased a mill, merged a team and inherited a fantastic leader and ambassador for the Yarram site." Shane Vicary, CEO of AKD.
John retired in 2021 and it is an absolute pleasure to honour his association with AKD by naming one of our AKD plantations after him for his dedicated 26 years of service at Yarram. The plantation is in Simpson, in the south-west of Victoria and recently 101,000 cuttings were planted across the 76 hectares which will produce 14,000 cubic meters of structural sawlog from clearfall at 30 years of age.
"Our family is extremely proud of John and the way he has conducted himself throughout the management of the Yarram site. John is generous with his time and always takes time to talk to people and work through issues in a positive way. He is an extremely kindhearted man and myself and the family are looking forward to him finally being able to retire and relax!"
Sheree Marshall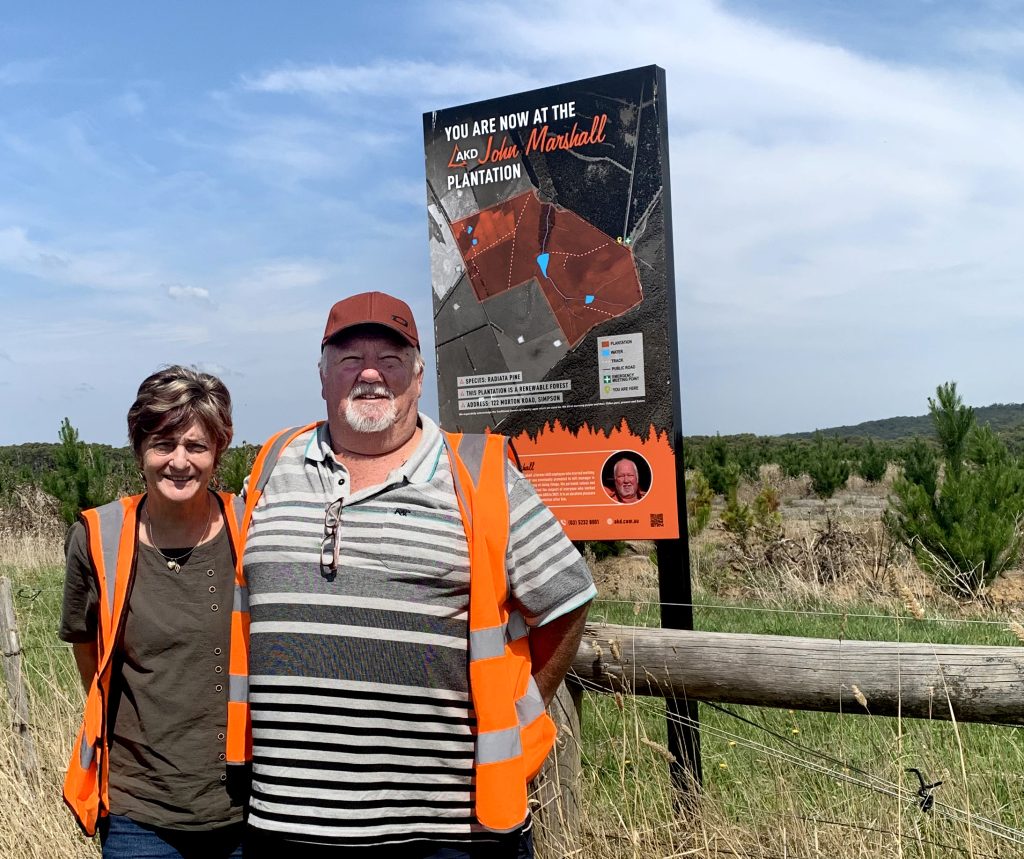 John's drive and passion for the Yarram site and team has been infectious. His commitment to continuous improvement, to his people, health and safety and housekeeping has meant that we felt at times, you were more AKD than we were. He has a big personality, is full of life and knowledge, and has always held the respect of everyone.
"John's honesty, integrity & big personality has endeared him to many. I have always admired John's tremendous judge of character, his wonderful quick wit, ability to always get a point across and have a laugh at the same time. I believe John's 'hands on' approach to his role has spread confidence and trust within the employees so much so that many are called friends." Jenny Kay, previous Yarram employee.
"There are not many people that can successfully steer a ship for over 26 consecutive years and have been able to pour as much concrete as you have. Many people in town laughed at the idea that a mill that produced pailings at first would ever last in this small town of Yarram, guess you had the last laugh there."
"You've worked smart not hard for so many years. You deserve to relax and take it easy for a change. Enjoy it! Wishing you all the best as you retire. Know you'll still be as busy as ever—but at least it will be with the things you love doing! It has been a pleasure to work with you over the years." Bill Wilson, Project Supervisor, Yarram
We sincerely wish John and Sheree all the very best for retirement and hope that they get to enjoy time with their family and can get away travelling, fishing and creating new adventures.­