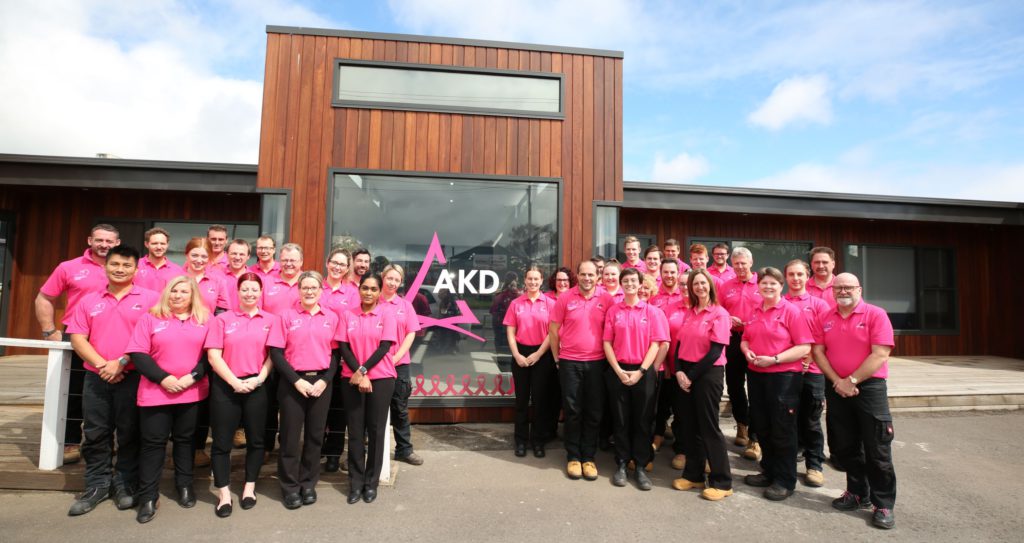 AKD goes Pink in 2021
For the month of October this year, AKD once again traded orange for pink and rallied together as a team to raise funds for the McGrath Foundation. The McGrath Foundation focuses on raising awareness for breast cancer as well as ensuring that patients and their families can have free access to the support of a McGrath Breast Cancer Nurse from the time of diagnosis and throughout treatment.
Unfortunately, breast cancer remains prevalent, and it is estimated that 20,030 Australians in 2021 will be diagnosed with the debilitating disease. Many of us have either been affected personally by breast cancer or know of a work colleague, friend or family member who has been diagnosed, and for this reason, AKD proudly supports the McGrath Foundation each year. After smashing our fundraising target of $50,000 last October, we decided to aim even higher for 2021, with a goal of raising $100,000 for the worthwhile cause. In true AKD style, the team smashed it out of the park, raising a massive $176,000.
In light of our fundraising efforts, we were lucky enough to be sent personalised video messages of support from Glenn McGrath (McGrath Foundation Co-founder & President) and Tracey Beven (McGrath Foundation Ambassador & Director) which were featured in the most recent CEO video, highlighting the significance of our partnership with the Foundation.
Pink gear was sold again this year, with polos and shoelaces available for purchase as well as the addition of pink glasses, gloves and drink bottles contributing to the sea of pink across our sites. Healthy Eating Cookbooks were also sold to assist with the fundraising efforts. It was hard to miss our show of support that was vividly on display across the business, seen from the pink wrap and strap used for our products to the colored lighting around the outside of office buildings. In addition, some employees quite literally turned pink in show of their support, such as Matt Taylor from NSW, and Alan Lund and Stephen Pefanis in Vic who all dyed their hair the vibrant hue. Matt also shared his heart felt story about the impacts of cancer on him and his family and called us all to arms to go and get checked.
Each site took it upon themselves to raise additional funds by running their own activities, with department BBQ's, pop-up pink shops and raffles proving to be popular fundraising initiatives. Yarram excelled, creatively deciding to hold a different themed lunch for each week of October, ranging from a roast beef lunch to the classic sausage sizzle. Also thinking outside the box, Caboolture encouraged employees to bring in any refundable bottles and cans, with all proceeds collected from these contributing to the site's donations pool. But the standout was Portland Pine with an impressive overall total between employees and donations getting to an impressive total of $9,800.
Our online donations page also received plenty of attention this year, with significant donations coming in from our customers, suppliers and shareholders. In acknowledgement of the overwhelming support we received from those who contributed, we ran a Thankyou Raffle with prizes kindly arranged for us by the Mcgrath Foundation and valued at over $3000. All who donated received automatic entry. Congratulations to our winners.
As always, we would like to thank all those who contributed to our fundraising efforts. We could not have achieved the total we did without the overwhelming support of our AKD employees, their families and our loyal customers and suppliers, no matter how large or small the donation.
You should all be extremely proud of the contribution you have made to this initiative and the positive impacts this will have on individuals who are hit by this awful disease.