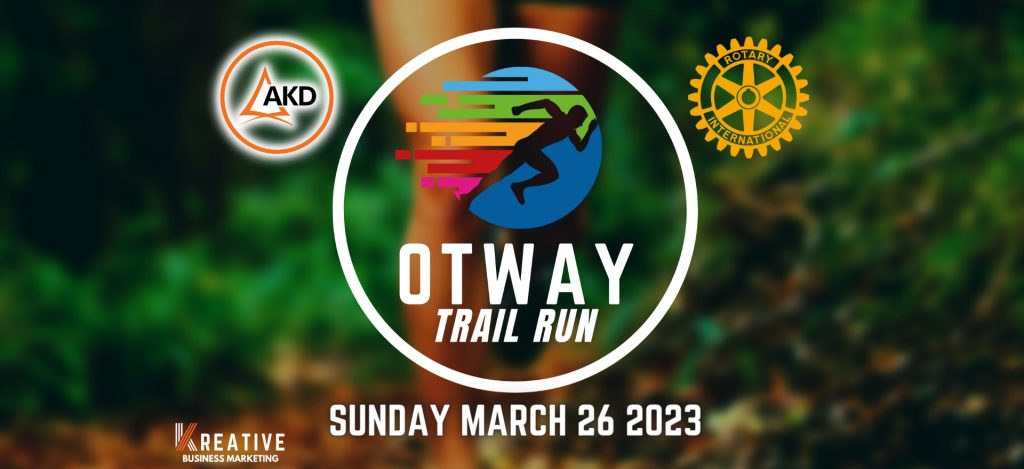 AKD Otway Trail Run 2023
After a few years away, it's back… The AKD Softwoods Otway Trail Run!
We are proud to be the major sponsor of this event and are keen to get as many AKD employees to take part and support our community and raise funds for
the Colac Area Health Foundation.
The AKD Softwoods Otway Trail Run is a trail run and walk on Sunday, 26 March 2023 on the Old Beechy Rail Trail between Barongarook and Gellibrand in Victoria. Enjoy some of the most scenic views the Otways has to offer.
Challenge your PB, make it a family affair or a catchup date with friends. Fur-babies welcome!

First 50 AKD employee to register will receive a FREE 'team AKD' shirt.
Be quick! Email registration receipt to colac.reception@akd.com.au to get your shirt!
Distances/Events:
7km Run/Walk – begins at 10am from Kawarren
16km Run – begins at 9am from Barongarook
The 16Km Run will take you from Barongarook, down hill through delightful cool bush to Birnam Station and the first drink station on the run, at the 6.3Km mark. Conquer the hill, then traverse through undulating bush and pastoral landscape toKawarren which is the 8 Km stage and another drink station. Kawarren is also the start line for the 7 Km Walk/Run. Both runs will end at Rex Norman park in the delightful Otways village of Gellibrand.
Enjoy the unlimited benefits of participating in a healthy outdoor pursuit and raising money for local charities.
Registrations:
Register online by 23rd March
https://www.eventbrite.com/e/otway-trail-run-2023-tickets-498527718827?utm-campaign=social&utm-content=attendeeshare&utm-medium=discovery&utm-term=listing&utm-source=cp&aff=escb
Registration will be available on the day from 7.30 am for the run and 8.30 am for the walk at the respective start areas. Cash only if registering on race day
Race Bibs:
For those who have registered online, numbered race bibs will be issued at the start lines from 7.30 am for the run and 8.30 am for the walk.
Timing:
There will be no official timing – runners will need to time themselves
Drink Stations:
Water will be available at both 16K and 7K start lines. Drink stations will be located at approx 5km and 10km along the run. There will also be drinks available at the Finish line in Gellibrand.
Getting There:
Colac lies 150Km west of Melbourne on the Princes Highway, less than1 hours drive from Geelong.
16km Run: From Colac turn left onto Colac Lavers Hill Rd then left onto Barongarook Road – follow to Barongarook Tennis Club, about 20 minutes out of Colac, which is where the run will commence.
7km Run/Walk: If you are entered in the 7km walk/run continue on the Colac lavers Hill Rd to Kawarren where parking is available.
Parking:
Parking is available at Barongarook, Kawarren and Gellibrand. A bus will be available at set times to take runners back to start lines to collect cars after the event.
Where does your entry fee go?
A portion of your entry fee will be donated to the Colac Area Health Foundations "Long Road Appeal", as they look to construct a brand new wellness centre, as part of the Cancer Treatment Facility.
Your entry fee will also contribute to Rotary local youth projects.The Rotary Club of Colac work closely with many local community youth groups to help support and further encourage our leaders of tomorrow. You too, can make a difference in somebody's life
For more details, check out the event via FB:
https://www.facebook.com/events/3370081149944074/?ref=newsfeed
*Above information has been taken from the Event Brite website provided by the Rotary Club of Colac. AKD does not hold responsibly should details change last minute.