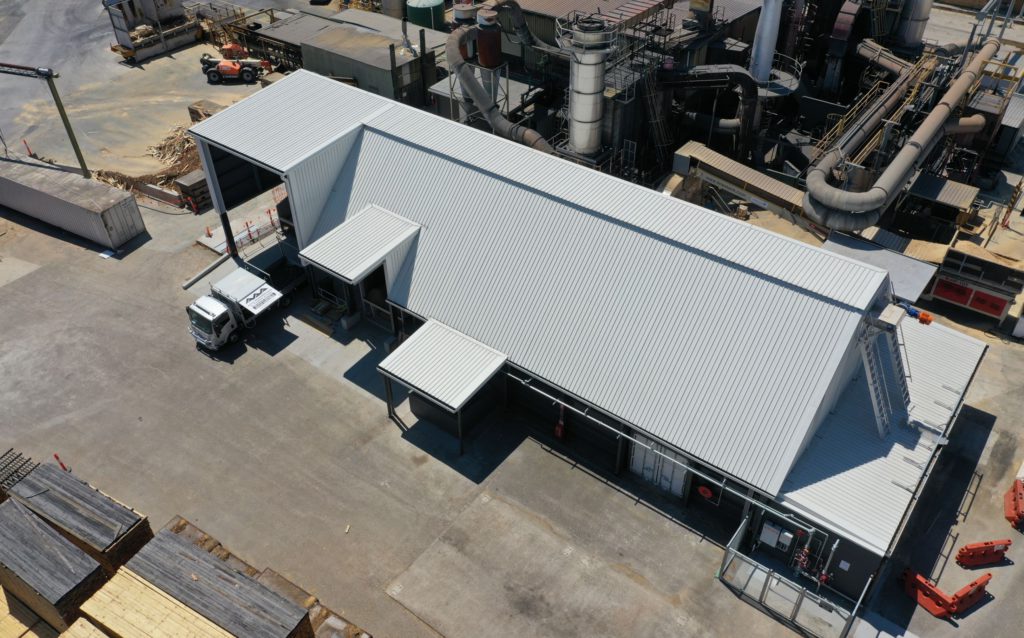 AKD's Approach – Taking a long-term view and a wholistic investment strategy
With an industry tenure of more than seven decades now, AKD won't claim they can predict the future but their longevity and ongoing commitment to the industry does give them credibility when they say they are driven by taking a long-term view.
The company has 3 streams of ongoing growth based on increasing investment building the company's future and helping make our industry more sustainable.
They are:
Plantations – AKD's Own Plantation Expansion and Resource Security
Processing – Smarter manufacturing and smarter building and connecting the two real-time
People – Smart People who care about safety, wellbeing, and a sustainable future
"None of us have crystal balls but especially in uncertain times, you've got to be clear about what you can and can't control and what's important for the long term. The leadership team of AKD is clear about 3 major seeds for our future – one being to have a commitment to grow AKD's plantation estate, the second being to keep investing in processing upgrades and expansions to remain globally competitive and thirdly, to keep investing in our people and our culture," said AKD's CEO, Shane Vicary.
Let's take a closer look at AKD's 3 areas of Investment Priority:
1. AKD's Own Plantation Expansion and Resource Security
In its current plantation estate of over 10,000 hectares, the company has a strong silviculture regime that is designed to optimize growth rates for sawn products yield, along with a flexible harvesting regime to balance the overall log diet to its East Coast network of sawmills; and that's just optimizing the current plantation estate.
In addition, over the past 5 years AKD has invested $29 million in plantation and land acquisitions to expand the company's plantation estate.
On-going, AKD continues to explore opportunities for plantation and land acquisitions. AKD has successfully grown the plantation estate by an average of 5% per annum over the past 5 years through acquisitions and lease arrangements.
Acquiring existing plantations adds to the company's immediate resource availability and combined with land acquisitions, continues to consolidate longer term resource security for the company.
AKD now has six properties registered under the Emissions Reduction Fund, creating Carbon Credits through carbon sequestration of new pine plantations.
2. Smarter manufacturing real-time
That long term cycle of harvesting sawlog and replanting makes the input material precious to AKD, but it also ensures a view that optimization of what is cut from the sawlog is measured and constantly being improved.
Investing in more flexible and efficient processing capacity is taking many different forms and projects in AKD – some of these investments are incremental, some involve proprietary pioneering, and some are Australian-industry firsts. The level of investment equates to more than the cost of building a new greenfield sawmill and this is a poignant comparison to make as we know that the current sawlog supply doesn't support the viability of new greenfield sawmill. AKD is however very focused on ensuring its current manufacturing operations are future-proofed and will remain competitive in the coming decades. The planned capital investment is across all of its sites including Post & Poles, Yarram, Colac and Irrewarra sawmills in VIC and its northern sawmill sites at Tumut NSW and Caboolture Qld. The current and planned slate of sawmill capital investment covers many different areas in the process and is designed to achieve the following:
Efficiency improvement
Growth
Safety and well-being improvement for AKD team members and our supply chain
Connectivity through the whole process & supply chain – big data management for optimal real-time processing decision making at sawmill machine centres; predictive demand & supply balance modelling across the supply chain
Some highlights of AKD's planned $100m in sawmill processing investment over the next 1 to 2 years:
Caboolture Sawmill to Double – AKD Caboolture is located in one of the few regions in Australia where there is additional sawlog availability to support a major scaling up of this site, with plans to more than double over the coming 12 months. The foundations of this are already in place and further forming with long term log contract supply agreement with HQ Plantations, along with the move to a 2-shift structure at Caboolture's green mill and installation of a new Uni-Directional Continuous Drying Kiln (CDK).
Biomass capability – AKD Caboolture will be the first sawmilling site in Australia to have its own biomass pellet plant right on site, integrated into its operations. This investment will result in usage of drymill shavings to convert to wood pellets for internal consumption in the boiler or potentially sold externally. Expected to be online in December this year, the $3 million investment will improve boiler fuel efficiency reducing overall consumption, whilst improving fibre waste management and creating an improved renewable energy source.
Colac major drymill upgrade – slated as a project for next year 2022 and in the order of a $16m investment this upgrade will provide a capability to improve sawn product recovery in sizes and grades that better match market requirements
Tumut new greenmill saw line creates a sustainable business medium term and bridges to future sawlog supply restoration in the region in the longer term – this project will be a significant investment in future proofing Tumut's capability to process a more flexible log diet and with an investment of over $24m to be managed over the coming 12 to 24 months, this will be another example of AKD creating its future, especially given the current reduction in sawlog volume that this site has had to deal with following the bushfires in 2020.
3. Smart People who care about a sustainable future
This is very challenging area for the industry as a whole and AKD is supportive of industry initiatives to help make our industry more attractive to current and future talent. AKD is also carving its own path to both foster talent development amongst existing AKD personnel and also to attract new talent from other industries and all stages of career and life.
AKD has a number of people growth and investment programs running across the business and with many more to come as it grows and continues to evolve as a business.
What is becoming apparent however is that prospective employees increasingly care about a company's sustainability credentials and their role in the community. AKD has a natural positive story to share with prospective employees with regards to this and whilst the tools to promote and educate regarding sustainability credentials are still being explored, the company story and approach stands tall.
AKD's sustainable approach to people and their futures includes:
Active approach to creating job opportunities which attract high quality, diverse and qualified people
AKD's Gap Year and Apprenticeship Program – including 30% female intake in the most recent recruitment round – developing and cementing the skills to sustain the industry. Over 50 current Apprentices in the group.
AKD's Graduate and Internship Program – aligning with universities and attracting new talent and ideas to the industry
AKD's PDP (Personal Development Process) for current employees' growth and development – a focus on the individual.
AKD Operational Excellence training for business optimization and personal and team development
Finally, AKD is an active participant in the communities in which their sawmills are located and believe this is also a key ingredient to being sustainable and ensuring the future of the company and the industry.