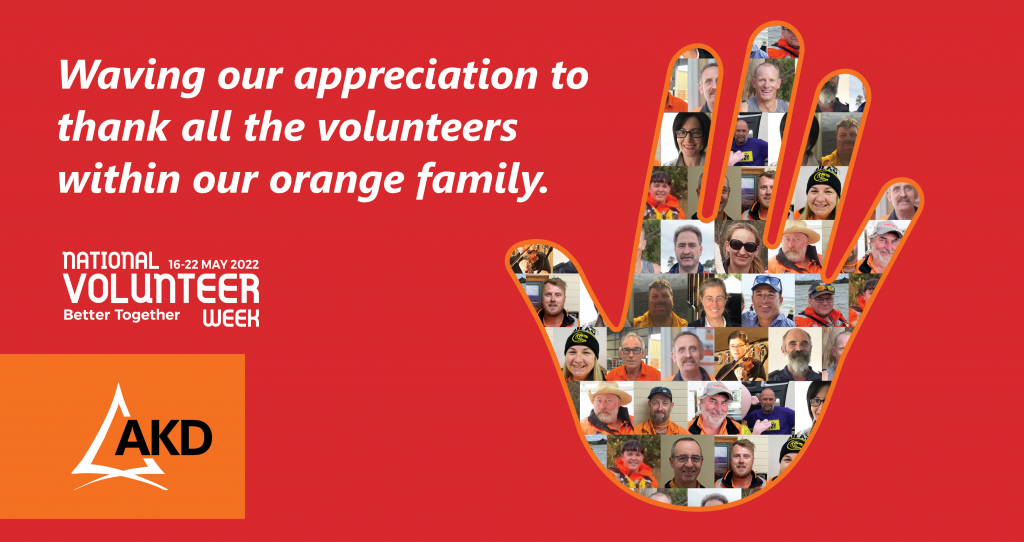 Shining a spotlight on volunteers
May 16 – 22 2022 was National Volunteer Week and this year's theme 'Better Together' celebrates the power of volunteering to bring people together, build communities and create a better society for everyone. Together, through volunteering, we are changing communities for the better. We are, Better Together.
In honour of NVW, AKD took the opportunity to celebrate and recognise the volunteers within our orange family. Together, our volunteers dedicate thousands of hours and we recognise the vital role they play in our communities.
We are privileged to have such a strong and enthusiastic volunteer base. Wave your appreciations with us to thank all the volunteers within AKD.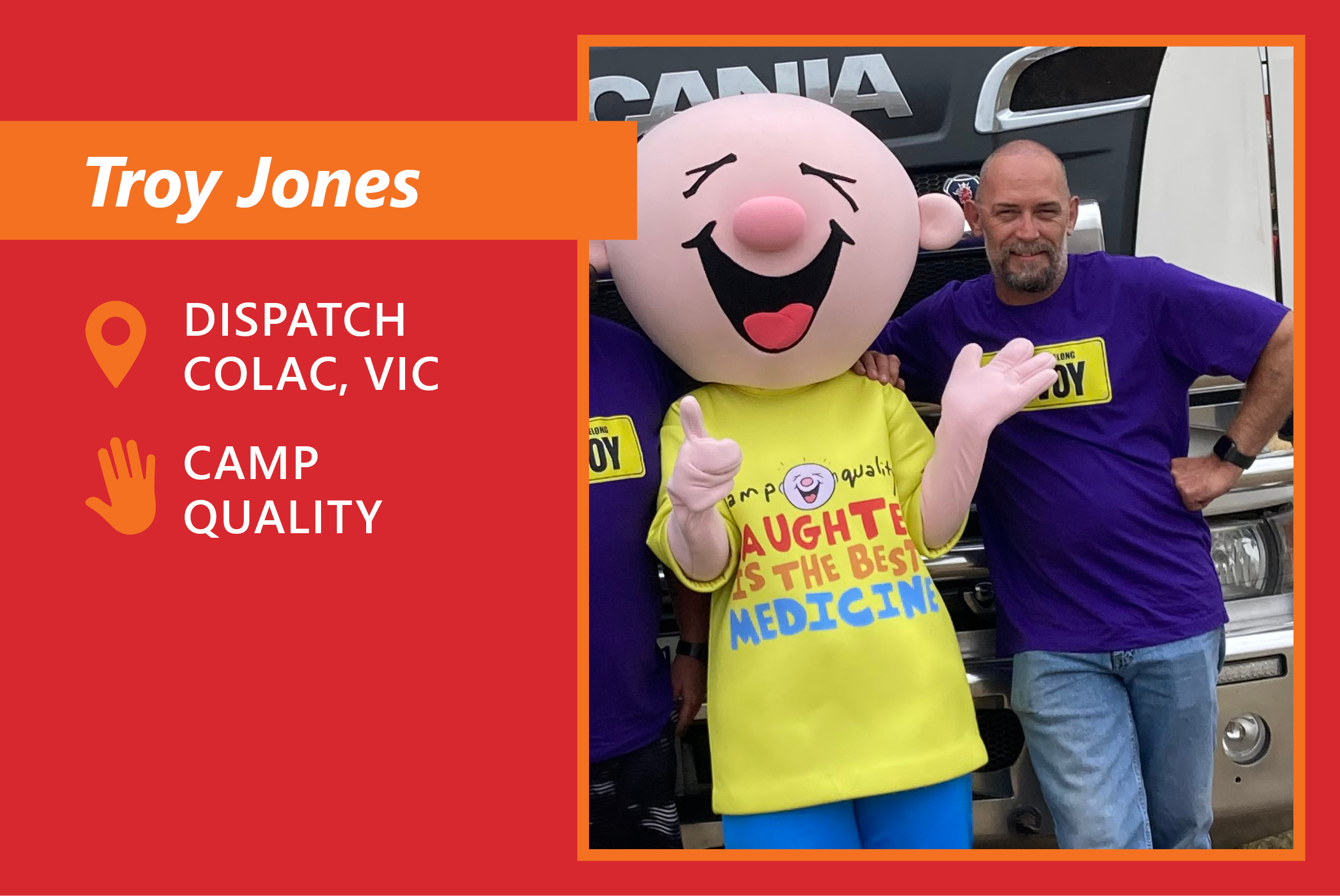 Meet Troy Jones from our Dispatch team in Colac. You might have seen Troy at the BBQ, selling raffle tickets, holding auctions around the Colac community and driving through Geelong in his extra shiny truck in the annual Truck Convoy – all of which is for Camp Quality.
"As a parent the best thing is to see is your kids smile and I just want parents with their children in the hospital to see that kind of joy again. If you have the time to help someone else, got for it, it's very rewarding."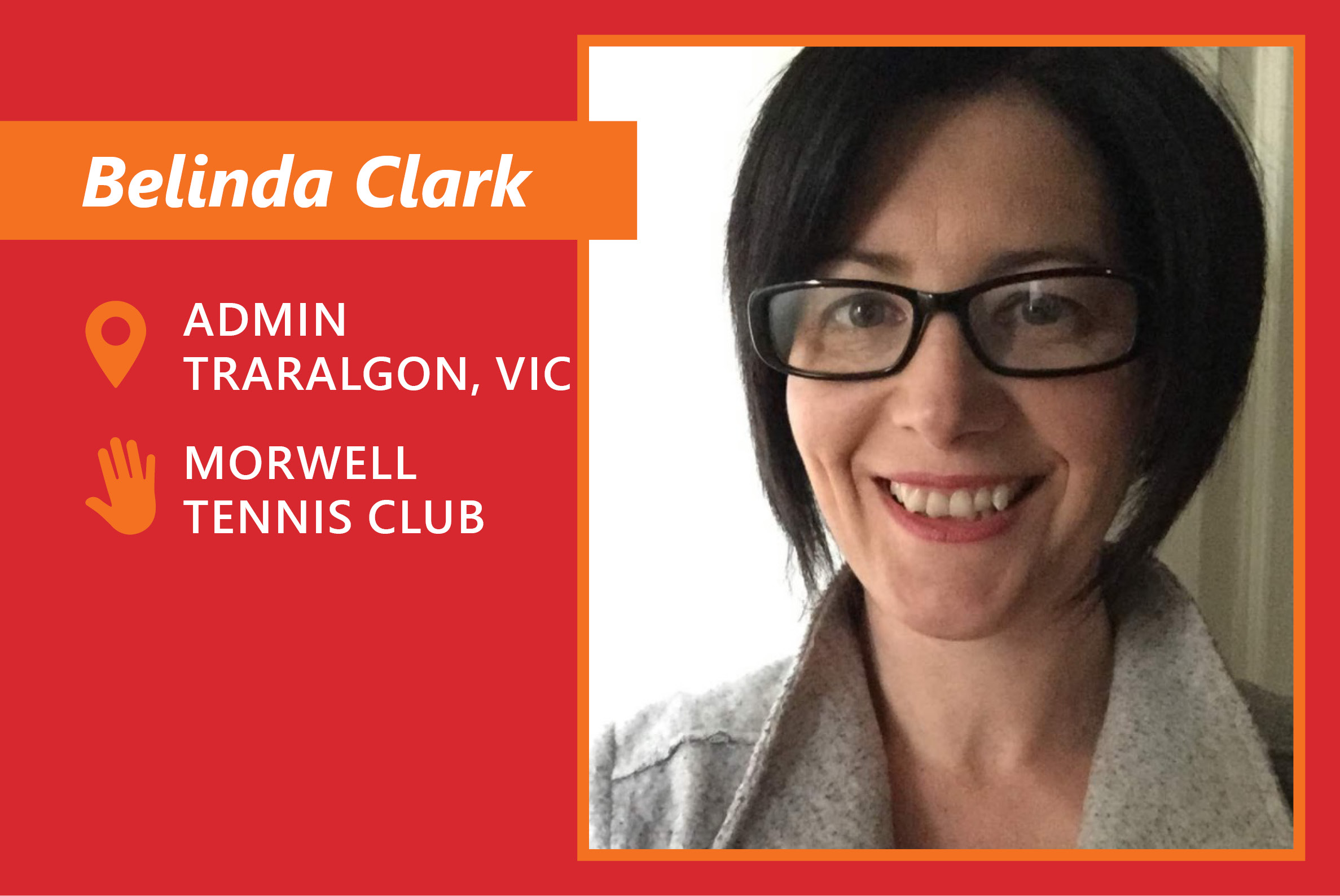 Belinda Clark from our admin team at Jelfor, Traralgon, has been a part of the Morwell Tennis Club since 2018 when her son joined. She attends committee meetings, fundraising events for the club, and can see her around the courts on a Saturday during the tennis season.
"Knowing that the work I do keeps a small struggling club running for our kids is amazing. Find something you are interested in and remind yourself of the difference you're making."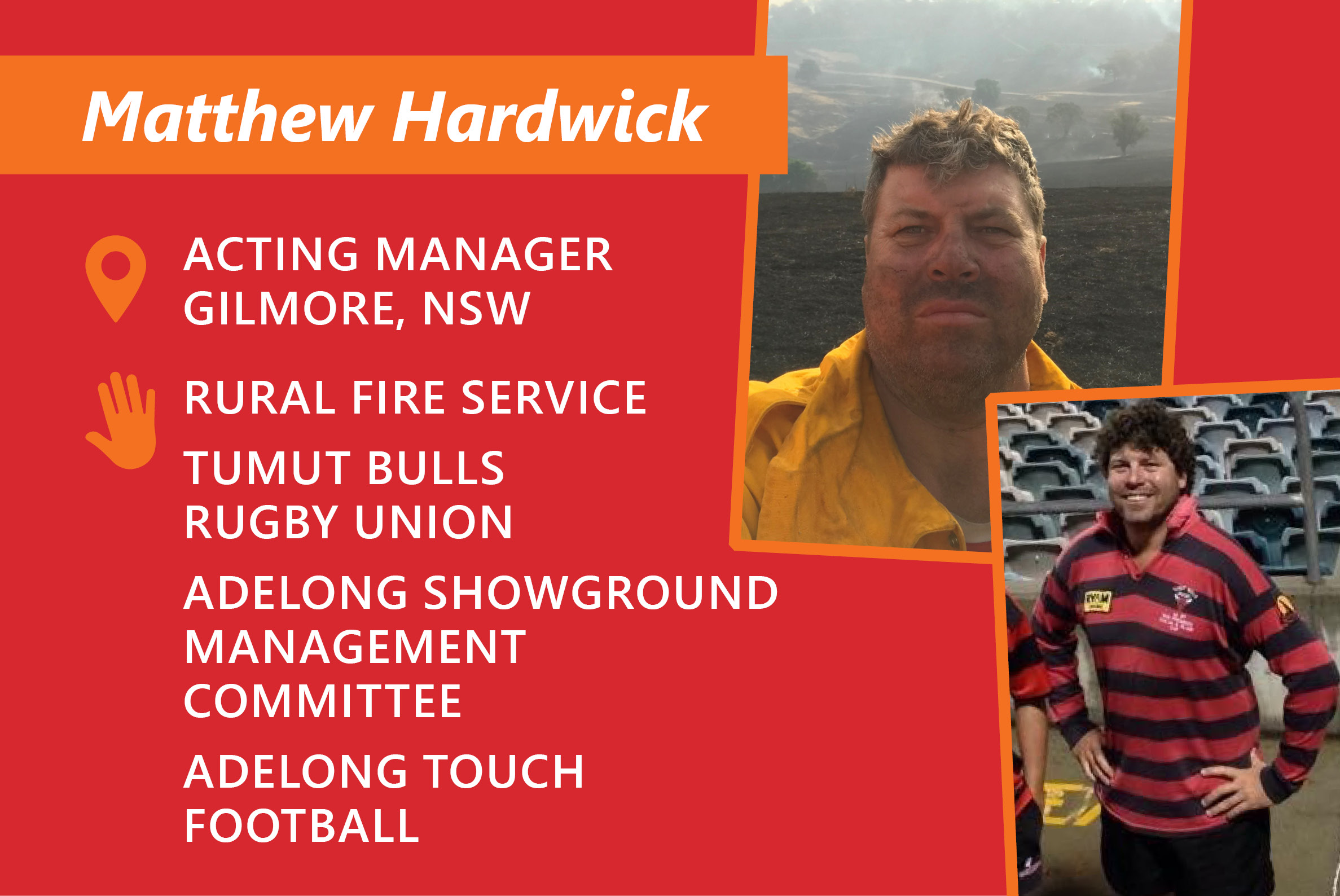 Acting Manager of our Gilmore site, near Tumut, Matthew Hardwick, is one of our busier volunteers, that's for sure, with up to 25 years volunteering in his community. He is the Deputy Captain for the Rural Fire Service which involves bushfire and village fire fighting, motor vehicle accidents and traffic control.
You might see him at the gates, running raffles or in the canteen at the Tumut Bulls Rugby Union. Or marking the field before play and organising refreshments for players at the Adelong Touch Football. Matt is also a part of the Adelong Showground Management Committee where he helps maintain the buildings, upkeep and beautification of the showground. "Volunteer to something that you feel connected to. When someone appreciates what you have done or what you are doing, it makes it all worth it"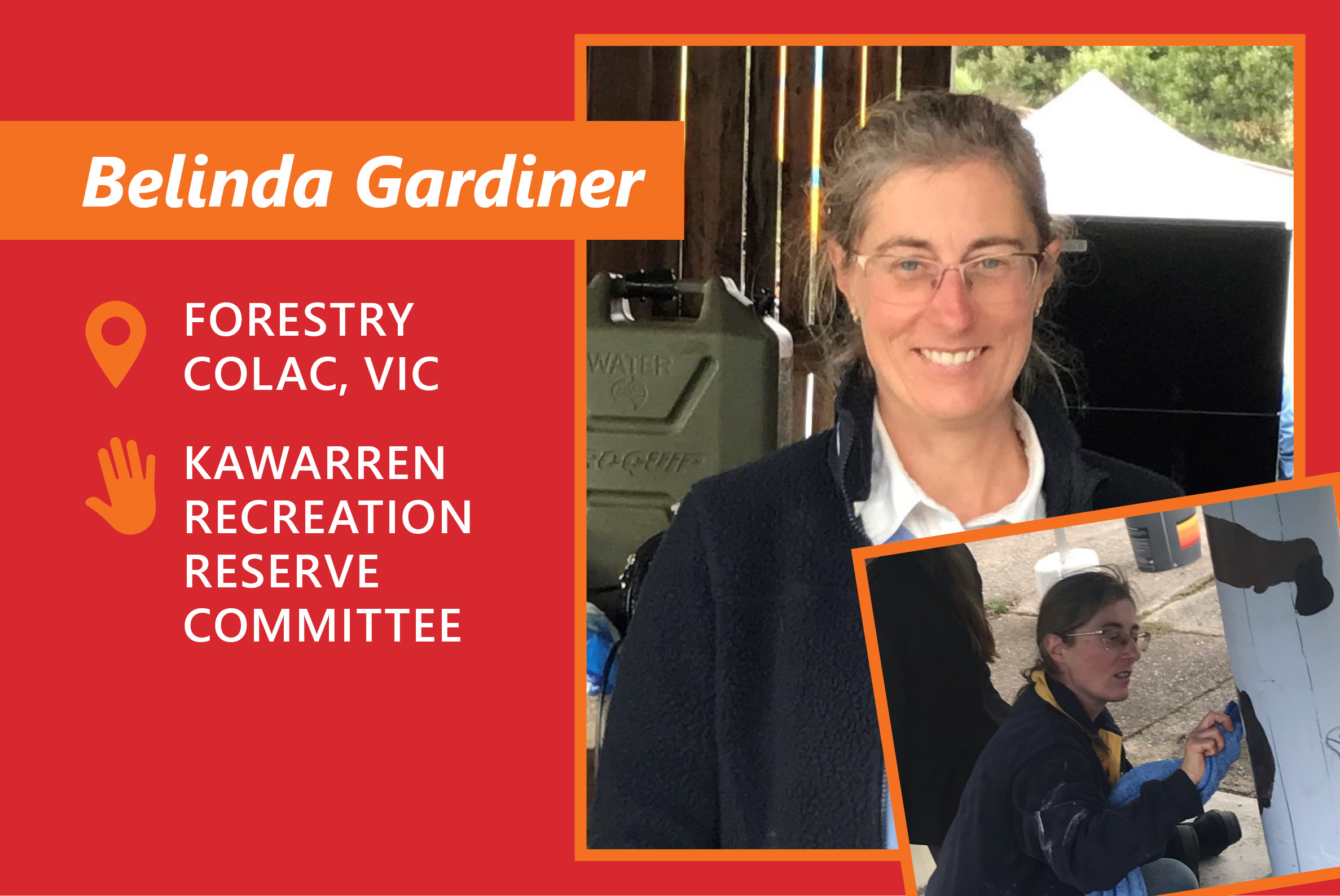 Meet Belinda Gardiner from our Forestry team in Colac. Belinda has been a member of the Kawarren Recreation Reserve Committee for 8 years where their task is to manage the site and buildings. She has helped run the playgroup for 5 and half years and assisted in raising funds for maintaining the facilities and new projects.
"I get the most joy from catching up with all the locals at meetings, events ect and also being involved in maintaining a facility which otherwise would have been lost if it wasn't for people volunteering to be part of the committee. Find something that your interested in to volunteer at – We need more volunteers in our communities."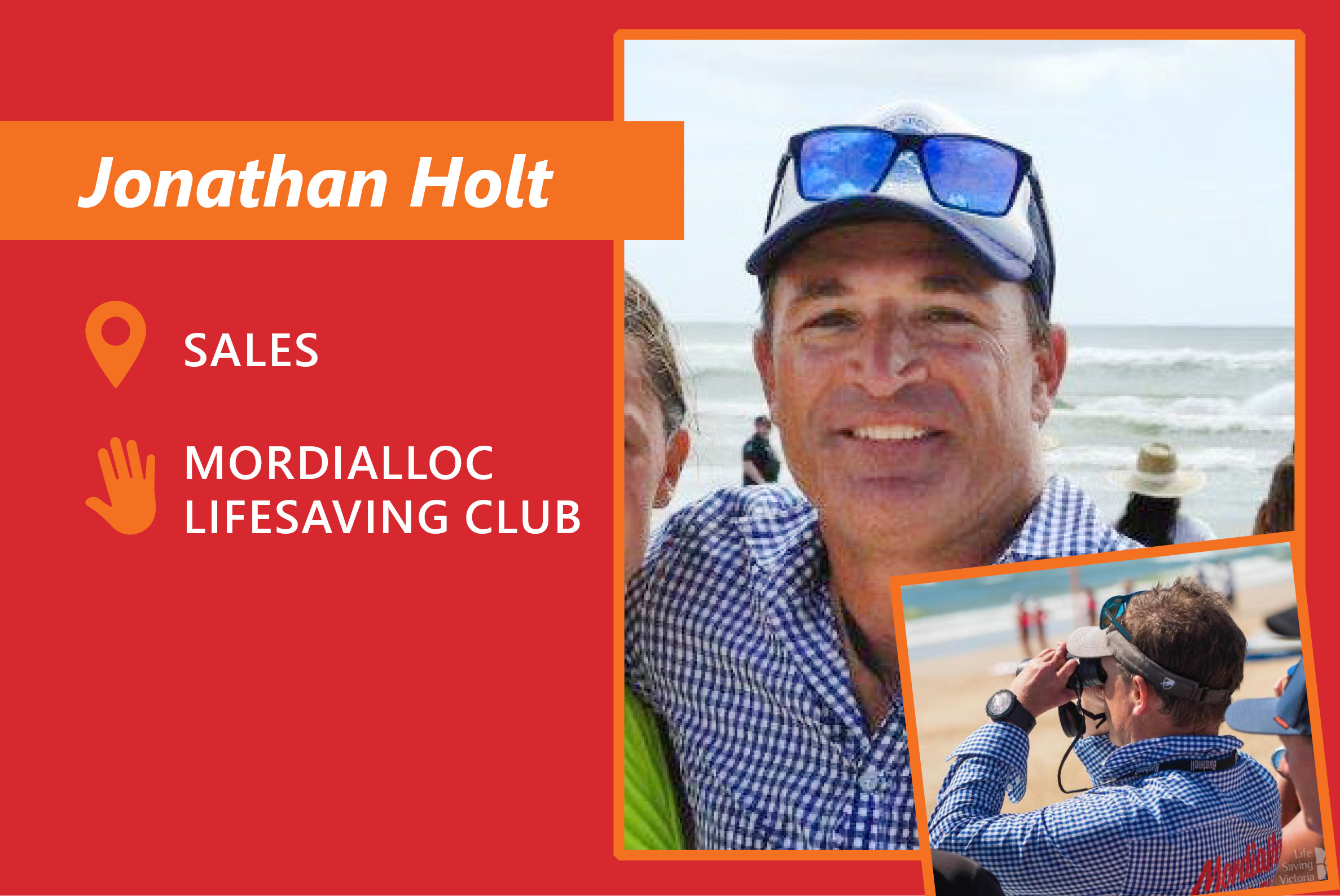 Jonathan 'Jono' Holt from our Sales team started volunteering at Mordialloc Lifesaving Club 10 years ago when his kids joined Nippers. He is the Director of Sport and Development, Executive Board Member, Head Coach – Surf Sports and Patrolling member.
Jono loves to coach the kids and to see the group challenge themselves, in what can be difficult environments (in Surf), and achieve their goals is priceless. "As a club that supports the local community by patrolling the local beaches to keep people safe, it was important to support the growing group of volunteers, to share the workload and support the development of the young lifesavers and athletes coming through. Clubs can't run without volunteers, and I wanted to get involved to give back to the club that provides so much to the members, community, and my family."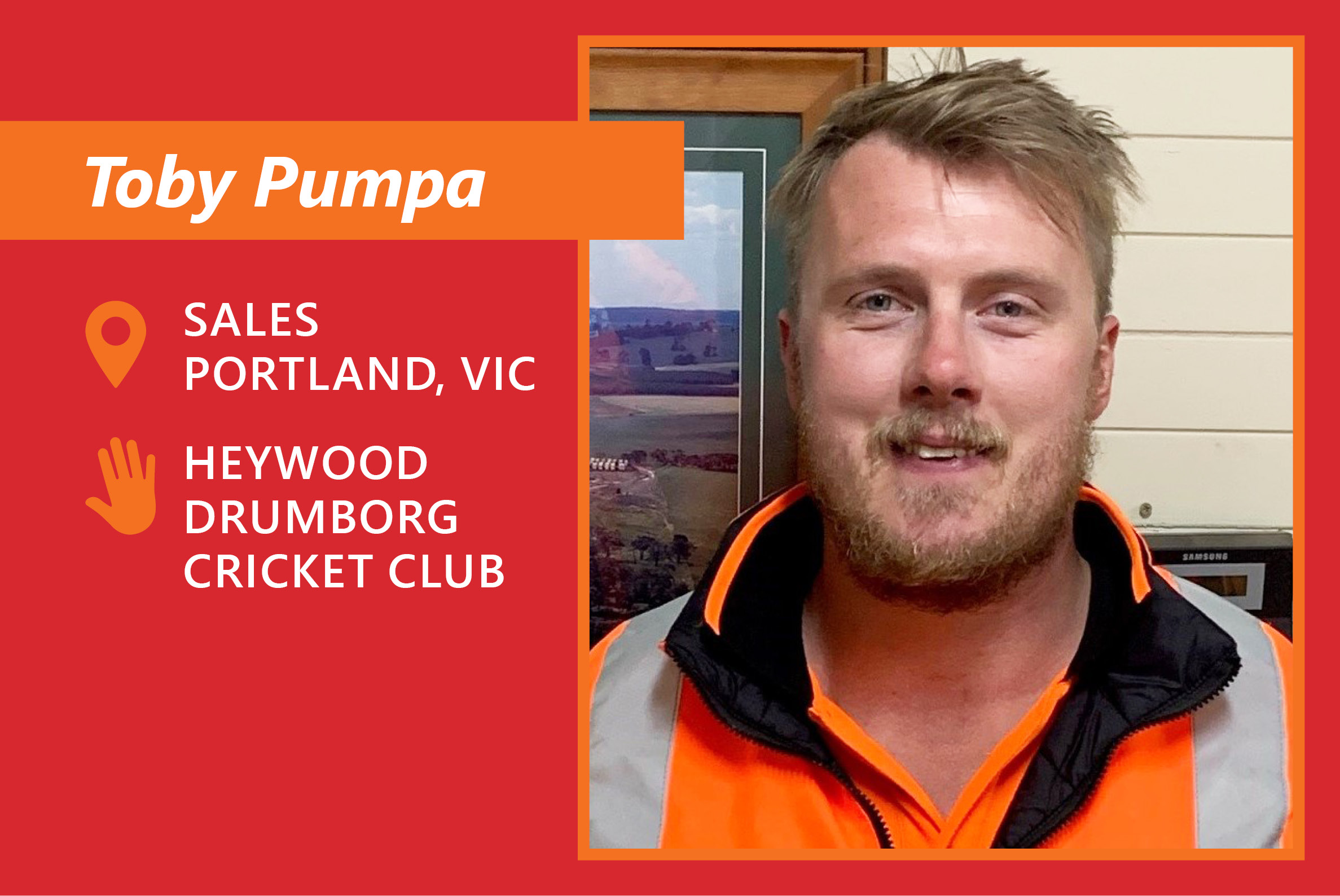 From our Portland sales team, Toby Pumpa has been a member of the Drumborg-Heywood Cricket Club for 10 years and is currently the club president.
He can be seen every week mowing the lawns, painting the boundary lines and many other jobs around the cricket club.
"Always work as a team and you will be helping the club be successful"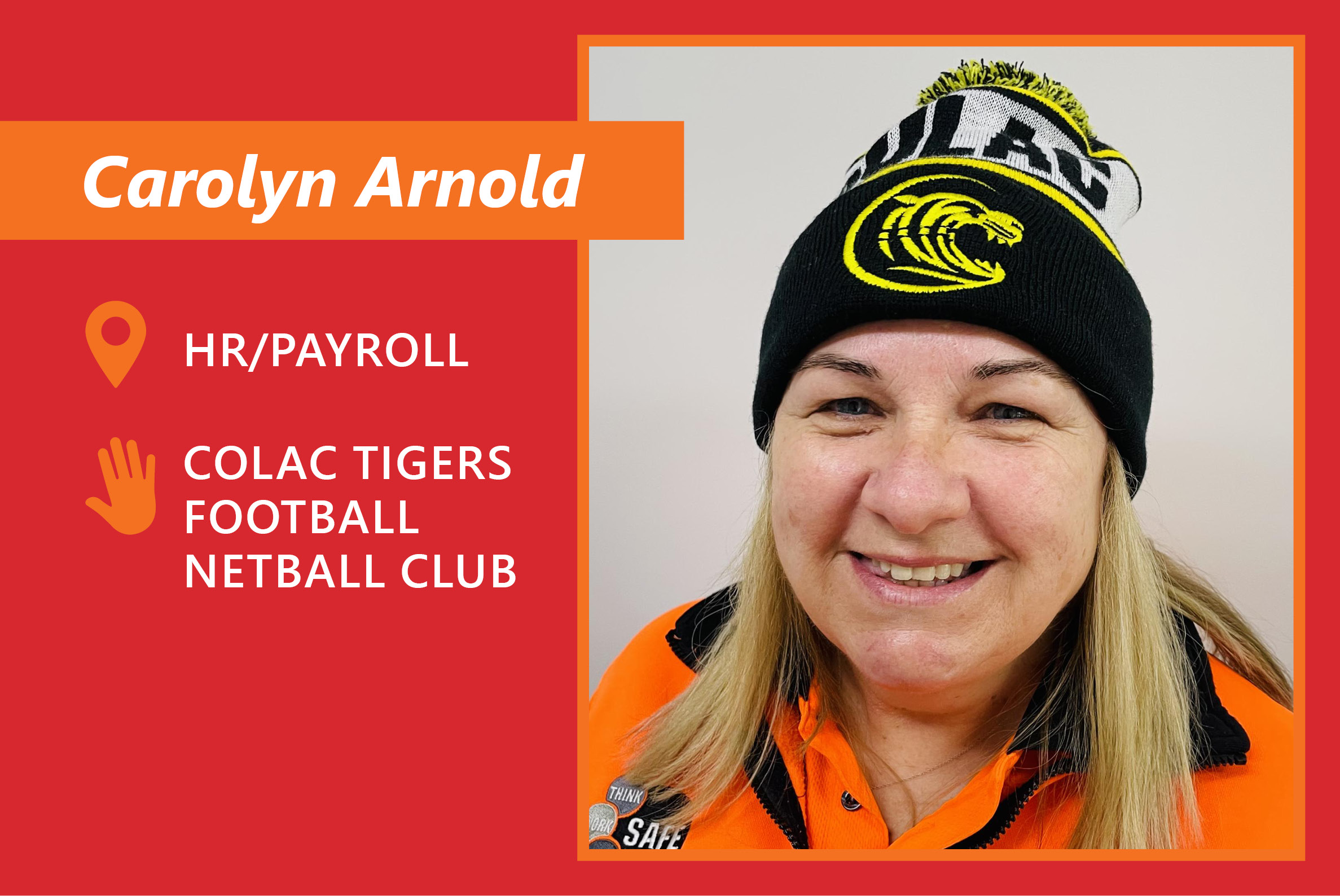 Meet Carolyn Arnold from our HR/Payroll team. 'Caz' has been a member of the Colac Tigers Football Netball Club for 7 years where she supports with the effective running of the netball via administration and game day support.
"It is satisfying to know that you have helped the entire club run things smoothly on game day. Mind you I do like to chat to everyone so it still takes me all day!!
Most clubs only run with the help of volunteers, and they can be in short supply sometimes, so I have done something of some sort at all clubs my husband and kids have been associated with. I love being involved and helping out. "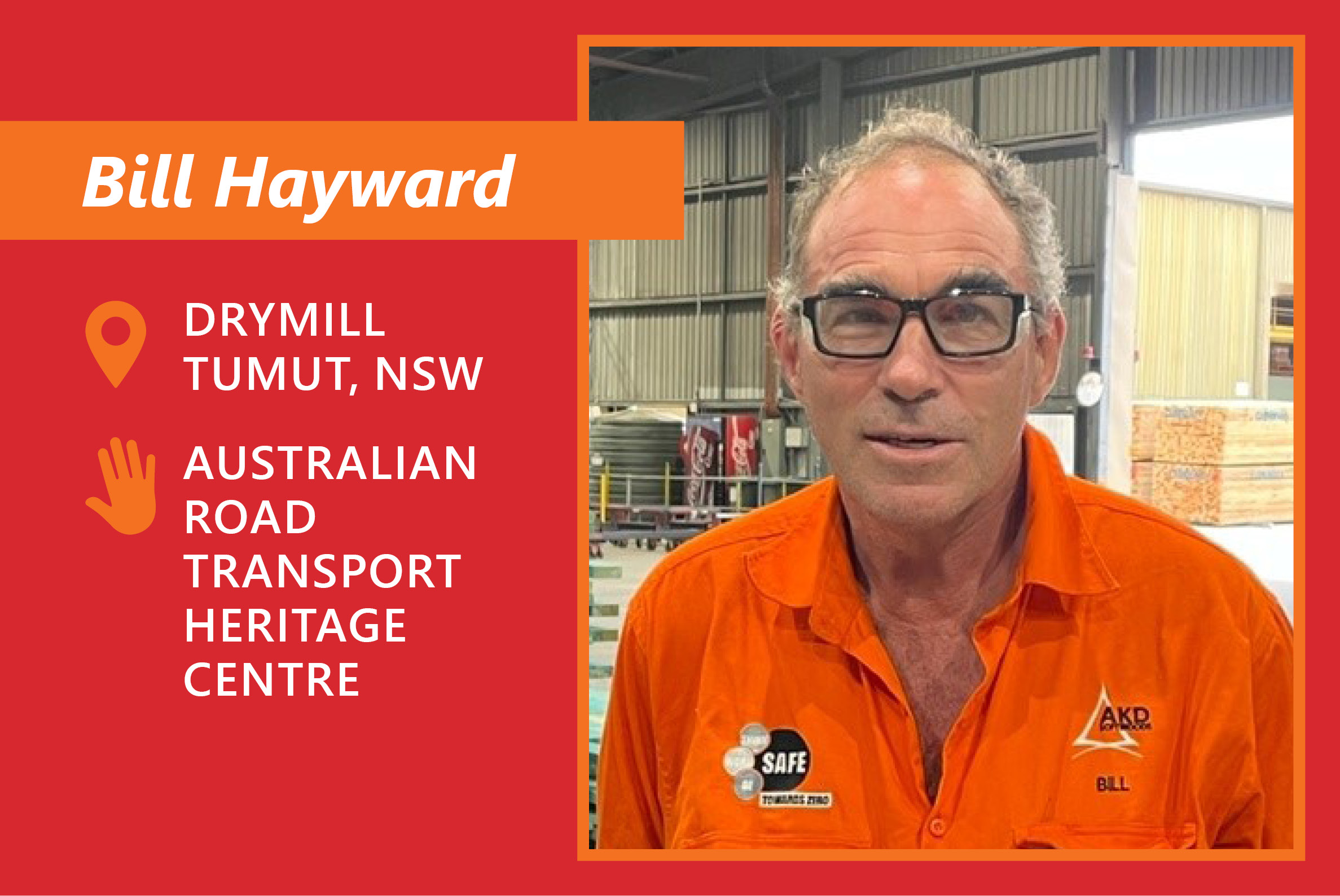 Bill Hayward from our Drymill team in Tumut has a love for trucks and for the last 4 years he has rendered his assistance at the Australian Road Transport Heritage Centre restoring vehicles, maintaining the building and giving tutorials on history of vehicles and the museum.
"I like talking to people about trucks and meeting people from all over Australia."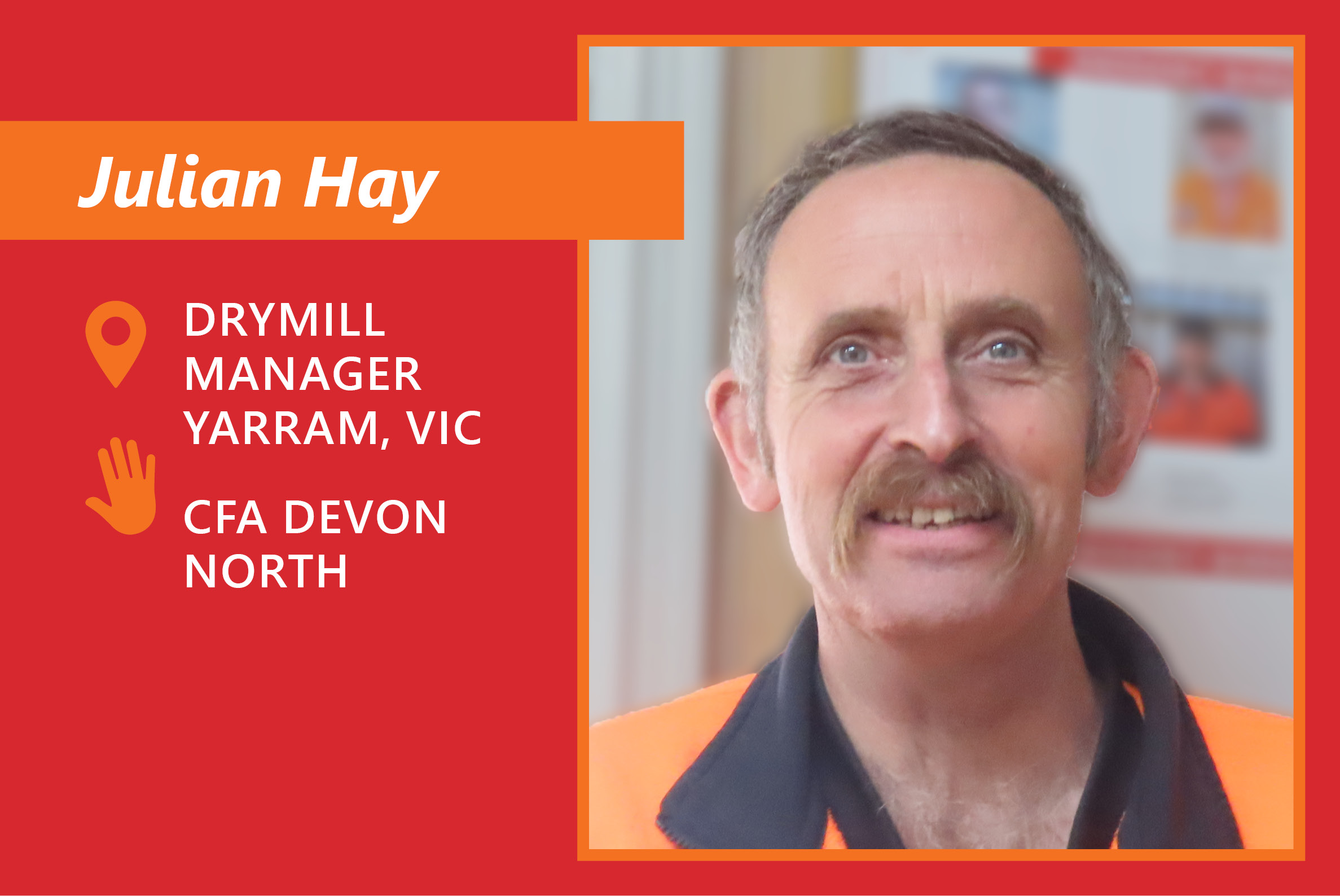 Julian Hay, from our Drymill Manager at Yarram, is currently the Treasurer and Secretary at the Devon North CFA and has previously been Captain where he has been volunteering for 17 years.
"I live next to the bush and want to be able to protect my family and be part of the community I had just moved to. I get a great deal of sense and pride from being able to help people and being a part of the community network"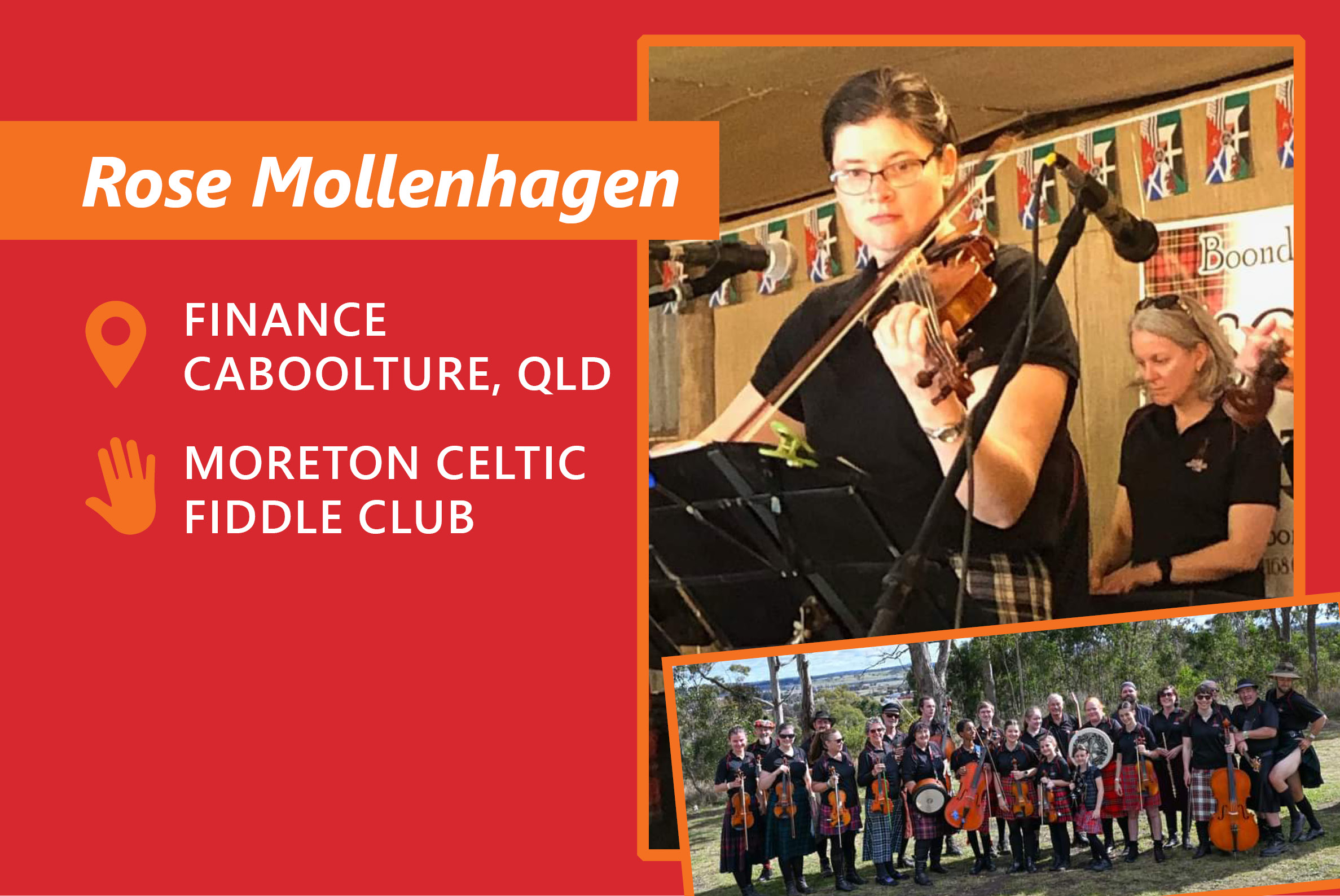 From our Finance team in Caboolture, Rose Mollenhagen has been a member of Moreton Celtic Fiddle Club, a community group who primarily play Celtic music, since 2014.
She plays the fiddle at community events and festivals with the club which has members from 8-80 years old to. Most recently, the group played at the Australian Celtic Festival hosted at Glen Innes which was a 6.5 hour drive from home and three days playing.
"Bringing music to people is joyful. We have some great music sessions when we all get together. Our group is often so large that we don't all fit on a stage, and we get out amongst the audience."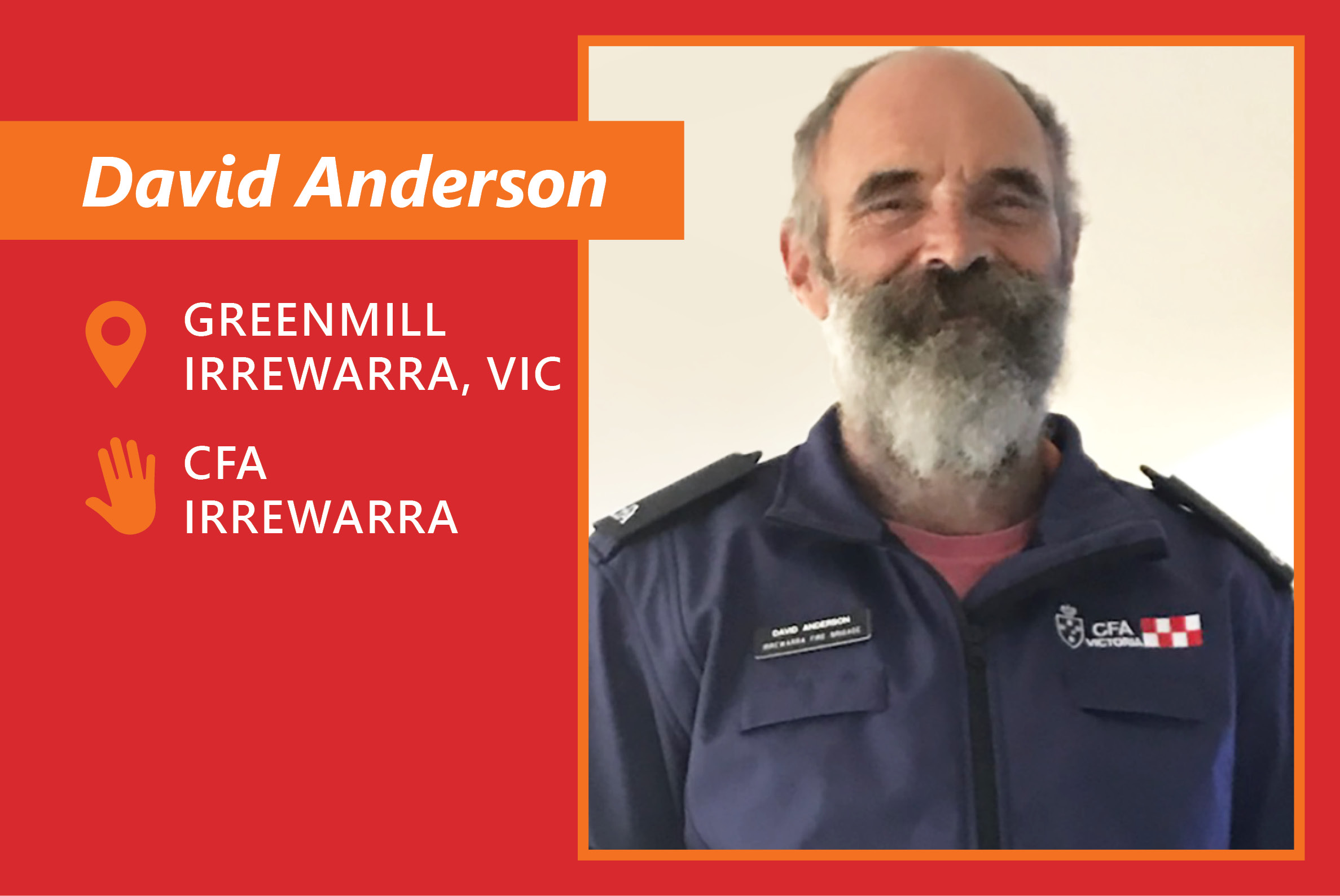 Meet David Anderson from our Greenmill team at Irrewarra. David has been a part of the CFA Irrewarra for over 10 years. He helps his community with bushfires, motor vehicle accidents and first responding.
"I joined the CFA to help those who needed help. It is most rewarding when everyone is safe and out of harms way"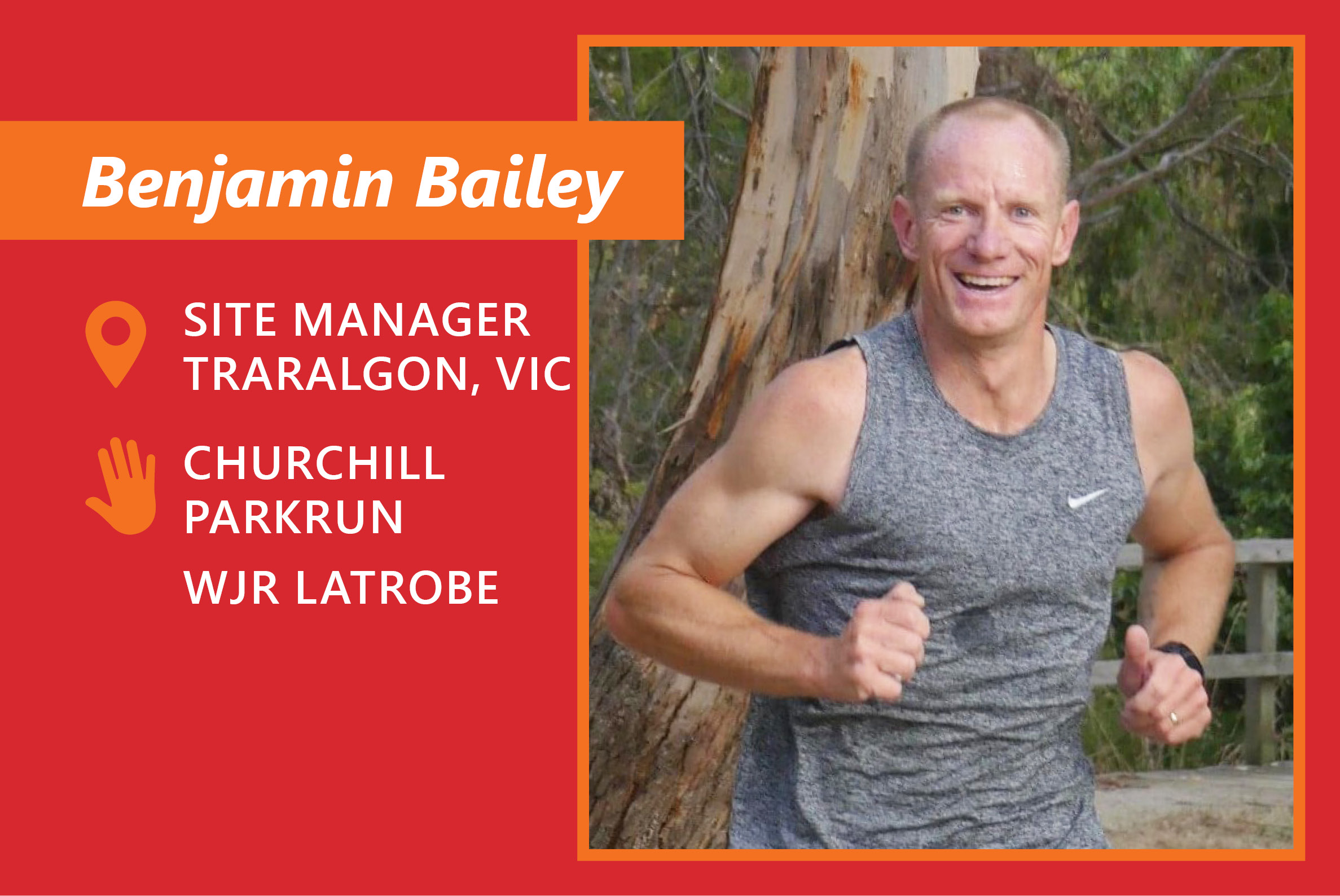 Benjamin Bailey, our Jelfor Site Manager in Traralgon, started the community running group 'WJR Latrobe' in 2017 where he coaches the group weekly and volunteers for the Churchill Parkrun.
"It's great to meet new people and I'm happy to give back. Many events would not have happen if there weren't volunteers to help."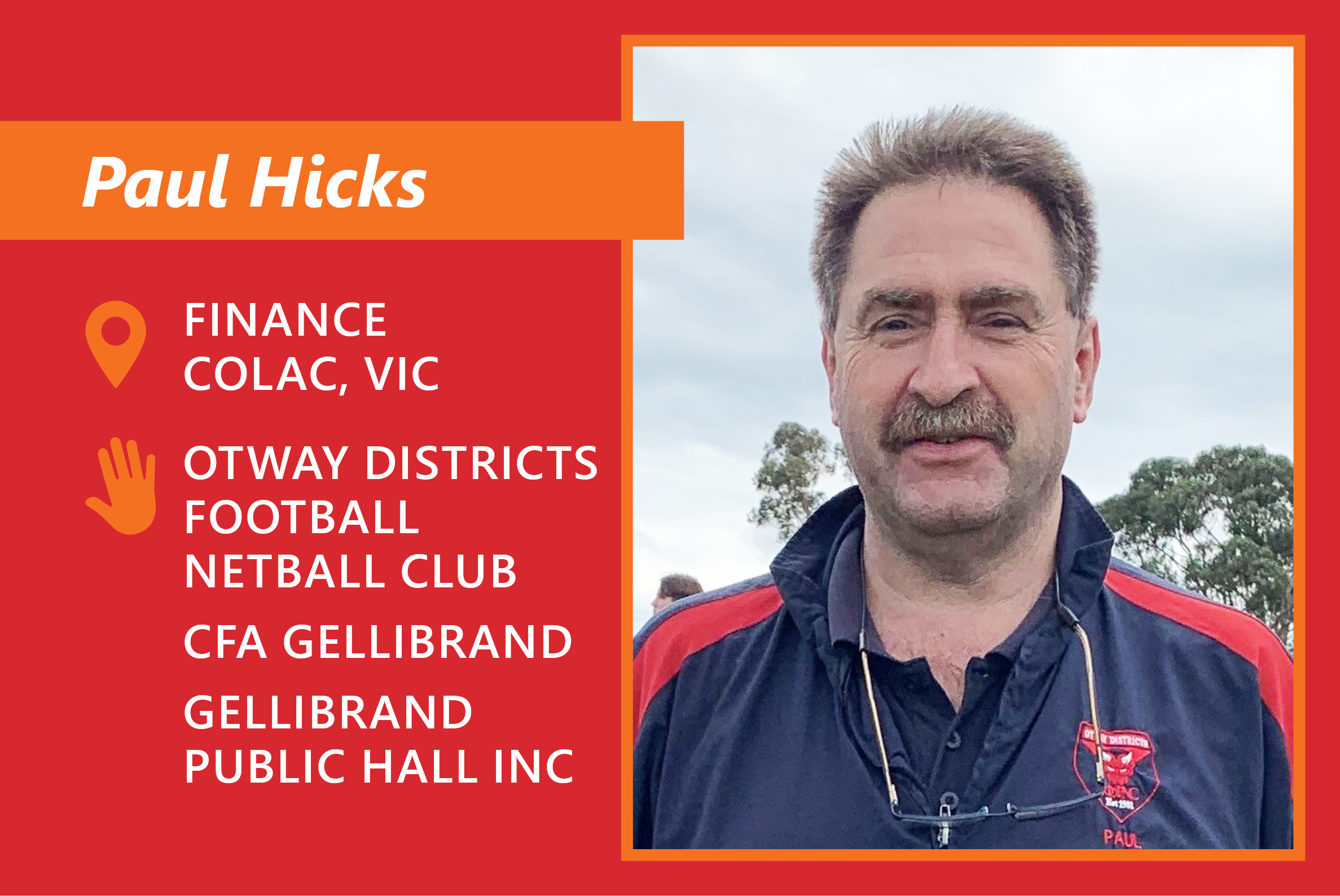 When Paul Hicks, from our Finance team, relocated to Gellibrand his love for footy and the game-day atmosphere, along with wanting to give back to the community had him put his hand up to be the Treasurer and Sponsorship Coordinator for the Otway Districts Football Netball Club, the Lieutenant and Secretary/Treasurer for the Gellibrand CFA, and the Gellibrand Public Hall Inc. Treasurer.
"The camaraderie of a sporting club, sense of belonging to a "tribe", we all look out for one another. Watching the young kids playing in the rooms or on the ground on game day wanting to emulate their heroes (mum & dad). Football Netball Clubs are the lifeblood of country communities, being a part of that is immensely satisfying. It is an honour and privilege to serve and it is an obligation I feel we have to our small communities to contribute."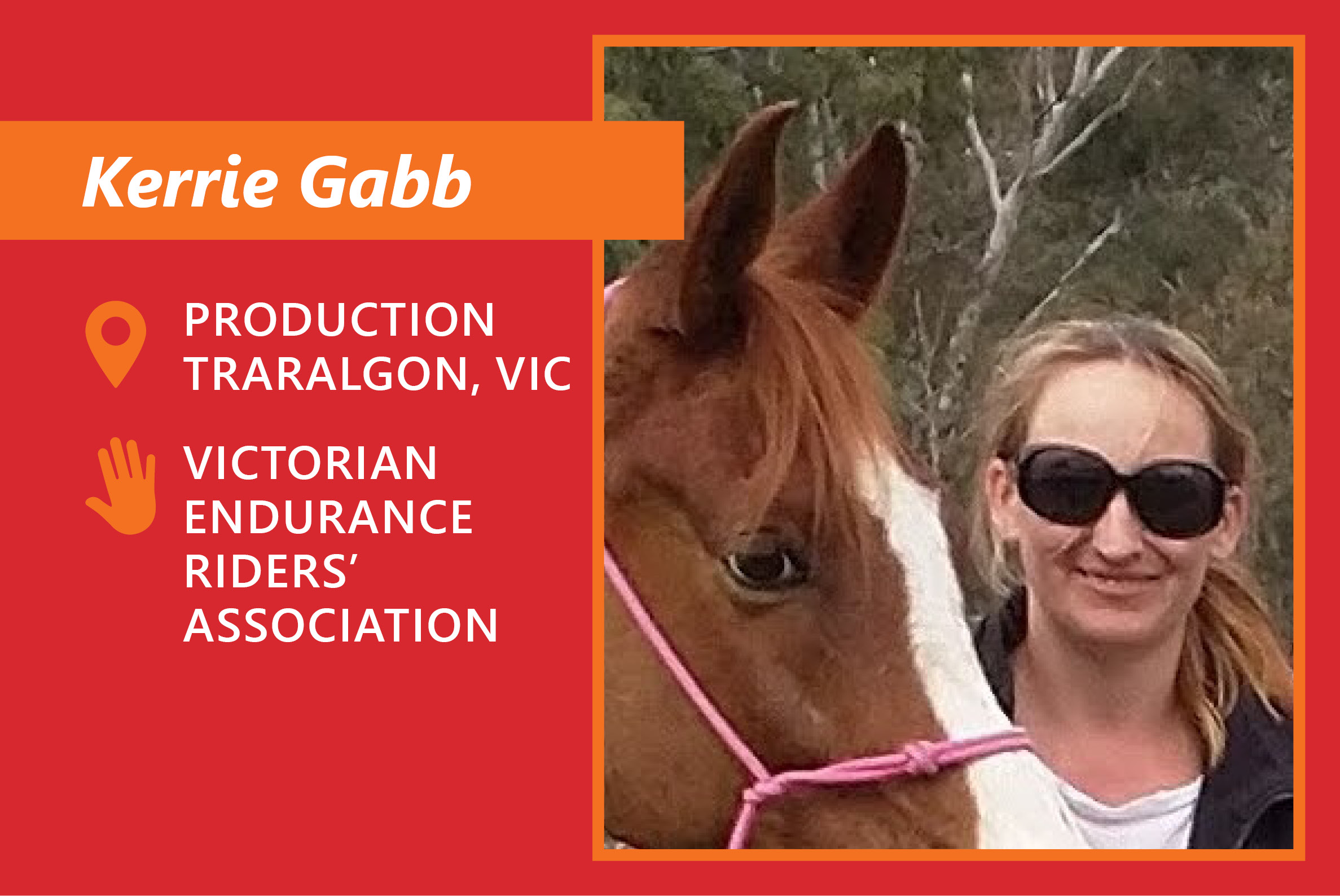 Meet Kerrie Gabb our Production Supervisor at Jelfor, Traralgon. Kerrie has been a part of Victorian Endurance Riders' Association (VERA) since 2017 and is currently the treasurer. Recently she has also joined the Tom Quilty Gold Cup committee which organises the annual endurance riders championships where over 400 riders participate from across Australian and overseas.
"You see riders and their horses accomplish any goal they set for themselves. To give back to a sport that gave me so much joy in my younger years is special. "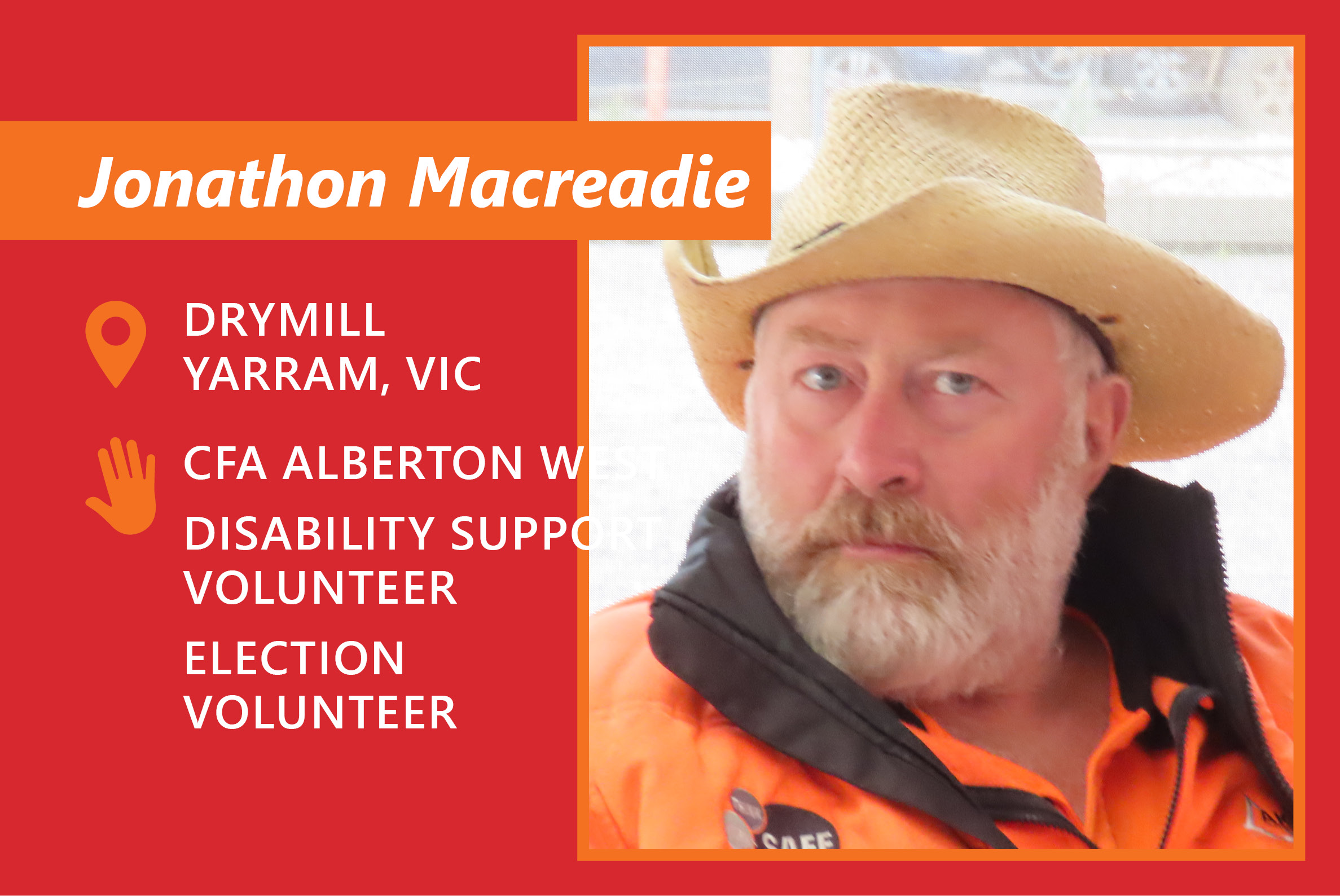 Jonathon Macreadie, from the Drymill in Yarram, is passionate about his community and has been a team member at the Alberton West CFA and Electoral volunteer for 30 years along with being a disability support volunteer where he plays cards and reads weekly to a lady.
"Knowing I've done something positive for the community brings me joy. Volunteering makes you feel good about yourself and gives you a purpose."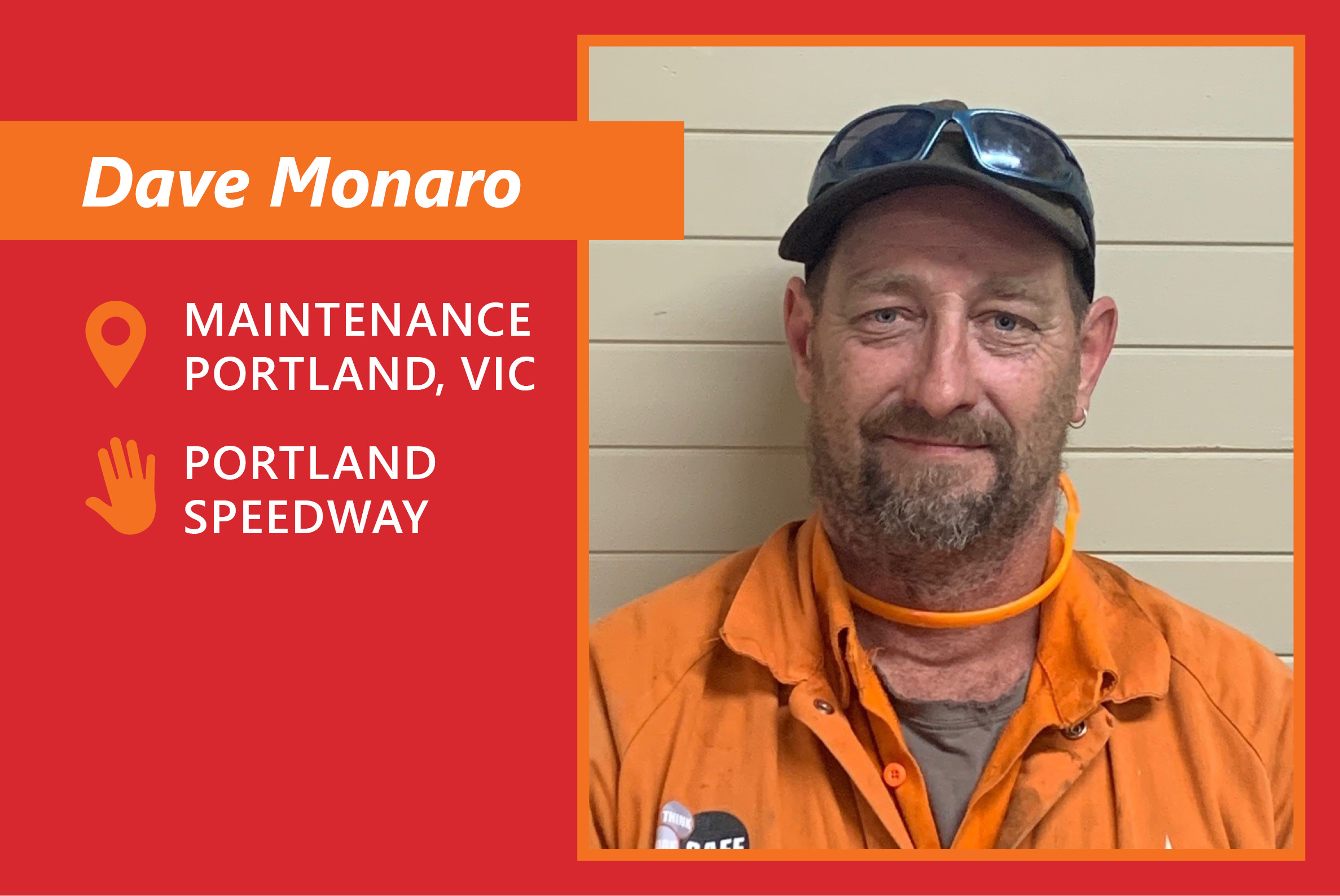 From our Maintenance team in Portland, Dave Monaro has volunteered at the local speedway since 2014. Along with racing cars with his family, he helps out at working bees doing maintenance and helps repair other competitors' cars.
"I like to help others out and its good fun with good people"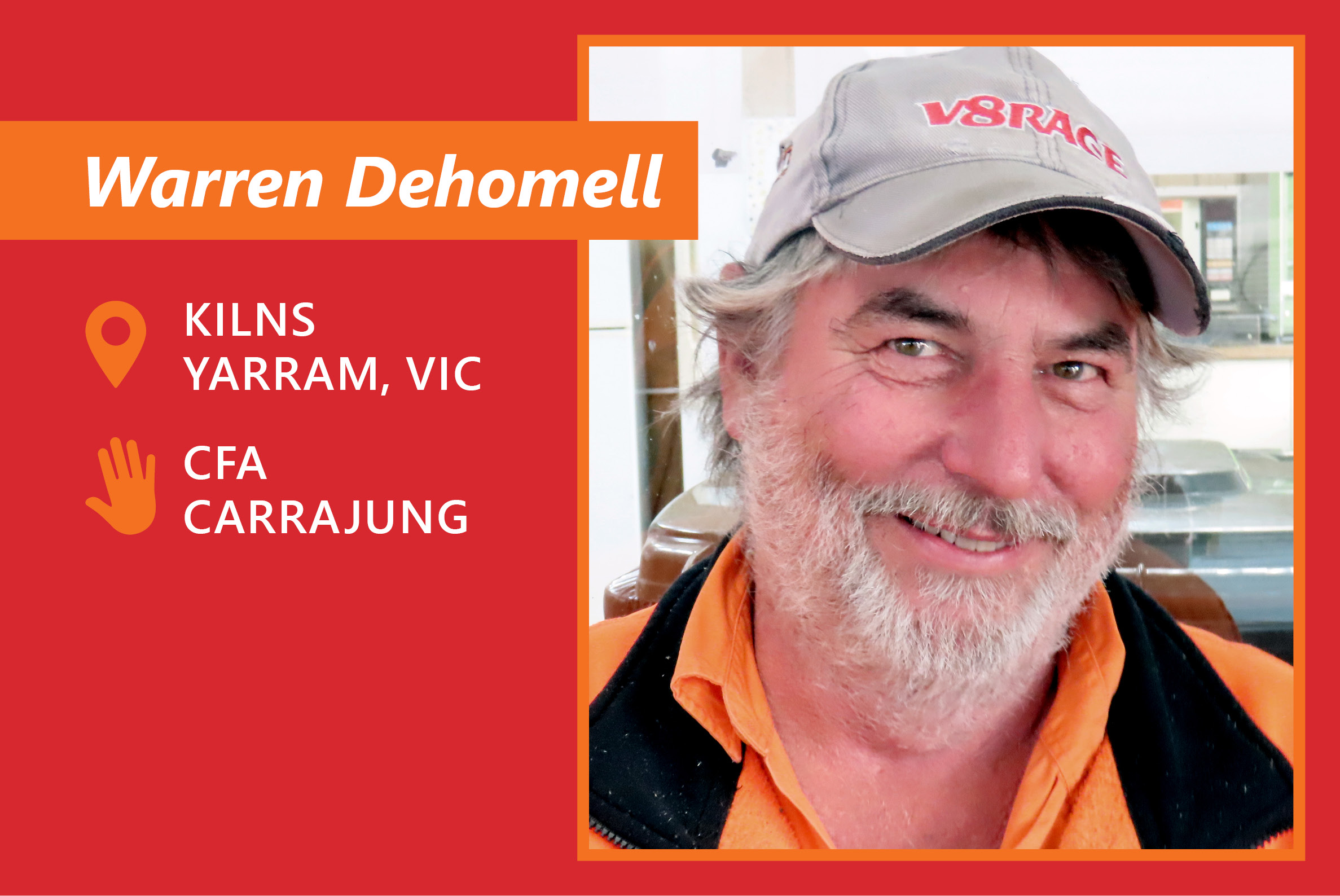 Warren Dehomell, from our Kilns team in Yarram, has been a part of the CFA Carrajung for over 13 years where is currently the captain and training officer. He helps his community with bushfires, motor vehicle accidents and first responding.
"Knowing you're been able to help the community and that you're making a difference means the alot. You learn a lot, gain new skills and gain trust in your team members."
WOW to the SES
Wednesday 18 May, 2022 was 'Wear Orange Wednesday' (#WOWDAY), is a day we thank all SES volunteers who generously give their time to help communities during flood and storm emergencies 24 hours a day, seven days a week.
AKD support and recognise the employees within our orange family that dedicate their time to our local SES.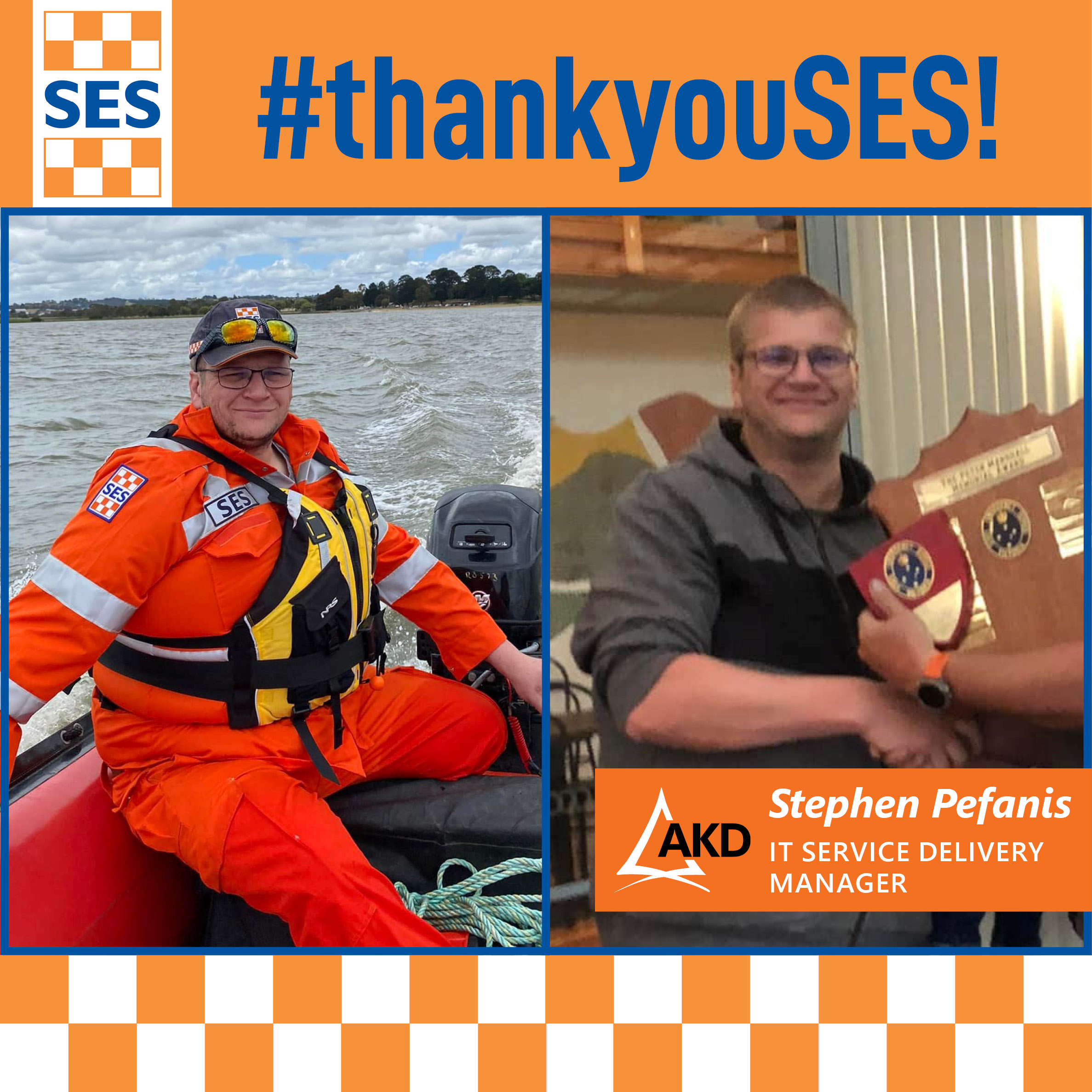 Volunteers like Stephen Pefanis from our IT team in Colac are the backbone of the SES service. He has been a part of the Colac SES since 2013 and trains weekly to be able to assist his community through storm, flood, road crash rescue, and much more.
"Volunteering allows me to challenge myself and push the boundaries of my abilities and comfort zones. Time spend with SES allows me to provide a service and support to the wider community and people in need. There is no time a part from now to start a new journey to extend yourself"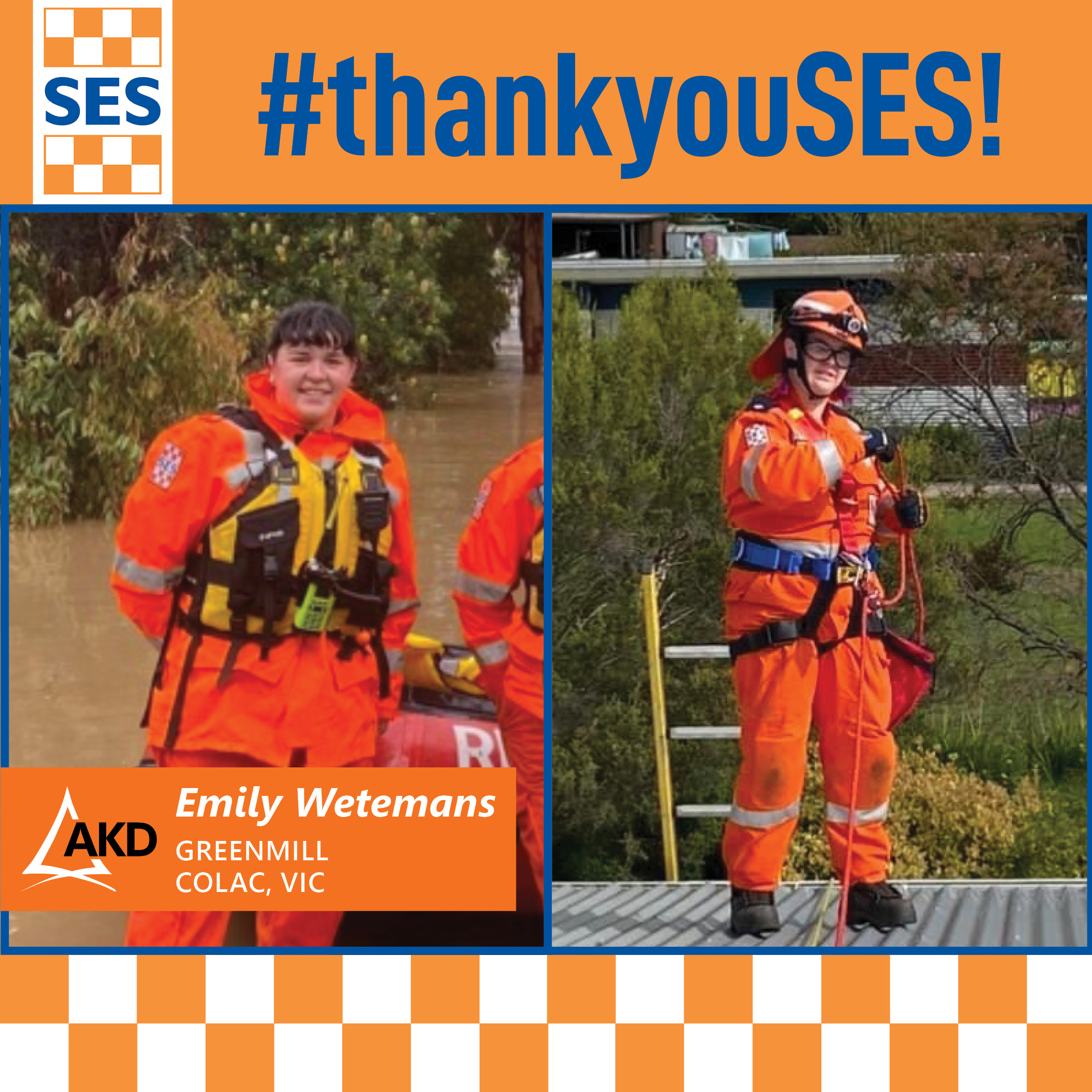 Emily Wetemans works in our Greenmill team at Colac and has been a part of the Colac SES since mid-2019 and is the units only female truck driver. Shey has since become a qualified first aider, chainsaw operator, roof-top and a boat crew member.
"I witnessed and was first on scene to a major head-on car accident involving 2 cars on the Highway. And like some people would be the same, I wanted to help but didn't know how. Later that day I got in contact with a friend that I knew was in the SES and asked how I get involved, and from there I joined the Colac SES Unit."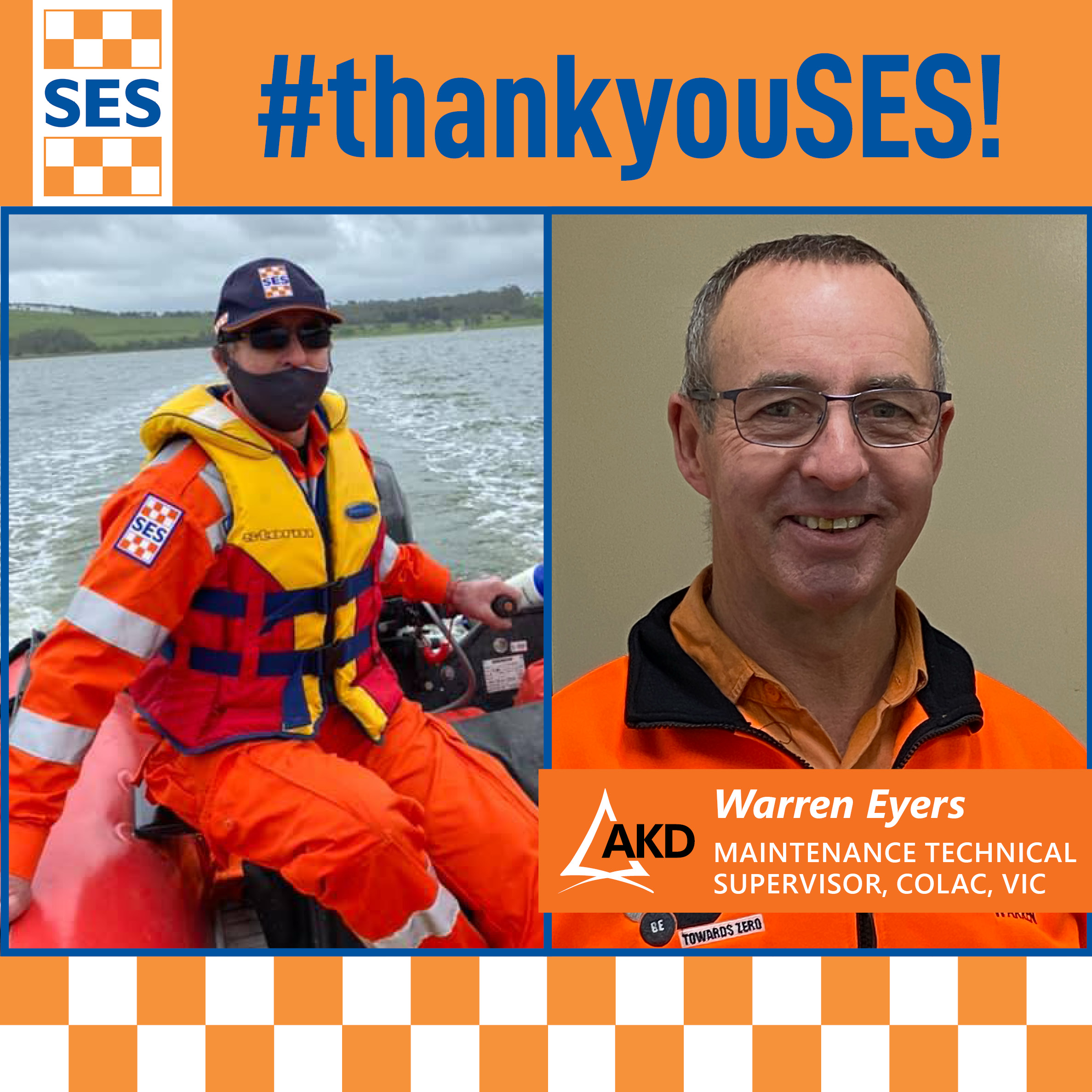 Colac's Maintenance Technical Supervisor, Warren Eyers, has been a member of the Colac SES since 2016 where he supports his community through storm, flood, road crash rescue, land-based searches, Ambulance and Police assist and much more.
"To get the most out of it you need to be part of the team, be available for training. The friends you meet, the challenges that you can encounter and the skills you learn are fundamental "
From AKD and your communities – Thank you to all our volunteers!